Highlights from the Rare Book collections
Detail from title page of
'Segunda parte de las republicas del mundo'
with woodcut, 1510.
An outstanding collection of 3,617 pre-1800 Spanish books, the Astorga Collection is one of the National Library of Scotland's lesser-known treasures.
Part of the library of an aristocratic Spanish family, the Marqueses de Astorga, these books were sold in the 1820s, possibly as a consequence of the family's involvement in the political intrigues of the time. The Faculty of Advocates bought the collection in 1826. At the time, bringing these books to Edinburgh must have seemed a bold move, but we are certainly glad that this collection is now here in Scotland. It gives us a rare opportunity to study the substantial portion of a fine Spanish library.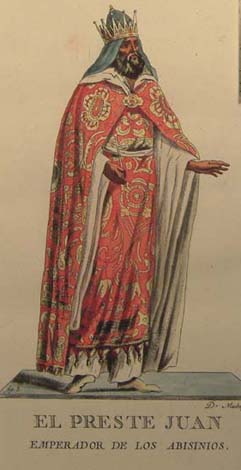 Prester John illustration from
'Coleccion de los tages', 1788
[Library shelfmark: G.5.a.1].
The books in the collection are generally in excellent condition, in contemporary bindings or bound specially for the Astorga family. There are 11 books printed before 1500, and many 16th-century books. Subjects strongly represented include history, theology, geography and science. There is a good number of illustrated books, some with maps or hand-coloured plates.
The image of the fictional priest-king Prester John shown here is from a volume of plates of the costume of religious orders, many of which are clearly imaginary. The artist who coloured in these plates has added some grotesque touches, including rouge, lipstick and extra eyelashes to a number of monks and nuns.
Censored page from
'Segunda parte de las republicas del mundo'
[Library shelfmark: G.5.b.8).5.c.5].
We hope to encourage more people to use the Astorga Collection. There are a number of very rare or unique items, pieces of manuscript which have never been studied, and many fascinating marks of former readership. Several of the books have interesting stories - some have early annotations or even marks of censorship by the Spanish Inquisition. The Inquisition seems to have been quite obsessive about crossing out lines and removing pages; when they had finished censoring a book, they added a note to say that the copy was now safe to read.
Many research discoveries are doubtless waiting to be made. The books are now catalogued online (Library shelfmark G.), although the records are fairly basic. There is also a shelf-list available.
Further reading
Loudon, J H 'The Astorga Collection of Spanish Books now in the National Library of Scotland', III Congreso Internacional de Bibliofilia. (Barcelona, 1971) [Library shelfmark: NE.532.b.8]