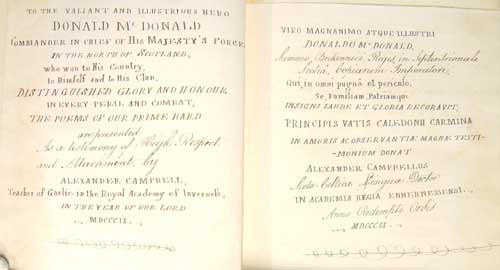 An example of a book inscription.
The history of the previous ownership of a book (part of what is known as provenance) can be established in various ways.
Inscriptions, bookplates, book labels and perforated or embossed stamps may point not only to individual former owners, but to collections, libraries and booksellers through which the book has passed.
Some shelfmarks too are distinctive enough to identify a previous owner. Other marks of ownership include special bindings and armorial or other binding stamps, which often indicate the former ownership of a particular library.
Examples include the books in the Polish Collections which used to belong to the Signet Library, and items from Napoleon's library at Fontainebleau.
Bookplates and other ownership marks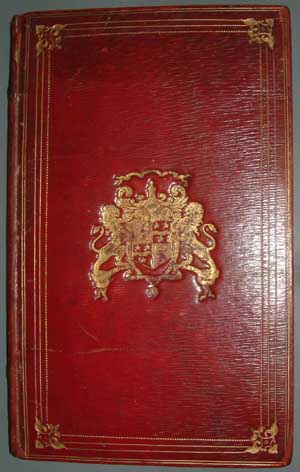 An example of an armorial.
Bookplates with armorial bearings, such as a coat of arms, and armorial binding stamps also give valuable information.
It is worth noting that descriptions of arms do not belong to surnames, though they may belong to a particular family.
Provenance is interesting in proportion to the significance of the previous owners, and ownership marks should never be deleted or destroyed.
Records of early and Scottish provenances
The National Library of Scotland maintains records especially of early and Scottish provenances.
We pay particular attention to books included in Durkan & Ross's 'Early Scottish Libraries'. These are books printed between 1470 and 1560 and acquired by Scots during that time. We maintain an interleaved copy, which cumulates the supplementary information published over a number of years in 'The Bibliotheck'.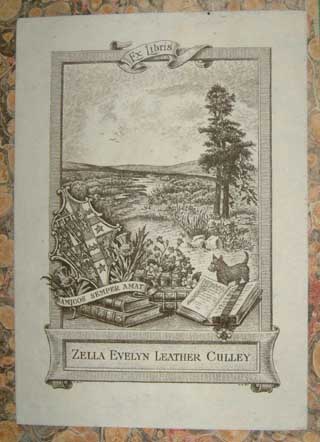 An example of a bookplate.
Some provenance information can be found in Library Search. The Manuscript Collections division also maintains indexes of inscriptions. Readers can consult these indexes on request.
At NLS we hold four collections of bookplates.
The most extensive one is the Henderson Smith Collection, which is indexed in a slip catalogue, held in the Rare Book Collections office.
Private library collections
Some of the Library's named special collections preserve, completely or in part, early Scottish private libraries.
Among the most important are:
The Newhailes Library Collection is a major Enlightenment library owned by David Dalrymple, Lord Hailes (1726-1792). It was originally formed by his grandfather.
Tyninghame House Library Collection is the family library of the Earls of Haddington. Sir Thomas Hamilton, the first Earl of Haddington (1563-1637), was adviser to King James VI and I.
The Blairs College Library Collection also contains a large number of books with provenance interest, among them Jacobite bindings with armorial stamps.
For further details of these collections, see the online directory of Special and Named Printed Collections.
'The private lives of books' exhibition in 2004
In 2004 the Library held an exhibition with the title 'The private lives of books'. It featured books with inscriptions indicating previous owners, recipients of books, the journeys of some items and family stories.
The exhibition also showcased books which had been censored, used as evidence in court or to do sums.
For full descriptions of the exhibits and their annotations, as well as some images, see the 'The private lives of books' exhibition handlist PDF (1.5MB; 72 pages).
Further reading
Pearson, David. 'Provenance research in book history'. (amended ed.) London: The British Library, 1998.(shelfmark: GBE.1998.1.11)
Durkan, John and Ross, Anthony. 'Early Scottish libraries'. Glasgow: John S Burns & Sons, 1961 (H4.93.680)
Sheppard, R and J. 'International directory of book collectors'. Beckenham, 1977 (HK2.151)
Davies, Arthur Charles Fox. 'Armorial families'. London: Hurst & Blackett, 1929-1930. (Her.5.3.D)
Elvin, Charles Norton. 'Elvin's handbook of mottoes'. London: Heraldry Today, 197 (Her.8.3.E)
Fairbairn, James. 'Fairbairn's book of crests of the families of Great Britain and Ireland'. London: T C & E C Jack, 1905 (Her.8.3.F)
Woodcock and Robinson. 'The Oxford guide to heraldry'. Oxford: Oxford University Press, 2001 (SU.37 (shelved at A.5 Woo))
Lee, Brian North. 'Early printed book labels. A catalogue of dated personal labels and gift labels printed in Britain to the year 1760'. Pinner Ravelston: Private Libraries Association and the Bookplate Society, 1976 (NRR)
Lee, Brian North. 'British bookplates. A pictorial history'. London: David & Charles, 1979 (NRR)
Ricci, Seymour de. 'English collectors of books & manuscripts (1530-1930) and their marks of ownership'. Cambridge: Cambridge University Press, 1930 (SU.37 (shelved at D.11.2 Ric))