Nine copies of the first printed book solely
dedicated to the history of Scotland.
Hector Boece's 'Scotorum historiae a prima gentis origine', printed in Paris in 1527, is one of the cornerstones of early Scottish history.
The National Library of Scotland has, remarkably, nine copies in its collections, which were recently brought together for the first time in their history. Each copy has an interesting story to tell about its former readers and owners. From left to right in our photograph are the following books, with their shelfmarks: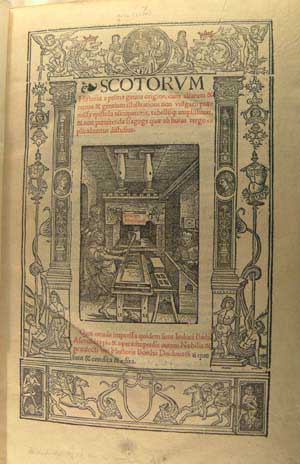 'Scotorum historiae', 1527
[Library shelfmark: Ry.ll.a.11].
A fine copy bound for the French bibliophile Jean Grolier (1479-1565) — Ry.II.a.11
Internally a very clean copy, from an unidentified Continental library — H.33.b.8
Inscribed by Alexander Stevenson, who was the rector of Forvie in Aberdeenshire in 1548 — RB.m.227
Signed by Thomas Randolph, English ambassador to Mary Queen of Scots and James VI — RB.m.334
Formerly owned by James Annand, 16th-century Chancellor of Orkney, and bound for him with his motto 'Sperabo' stamped on both boards — SBA.Add.1
On deposit from the Scottish Catholic Archives — SCA.143
From the library of Bishop Alexander Jolly (1756-1838) — Jolly.2897
Copy of William Cecil, Lord Burghley (1520-1598) — RB.m.276
In a smart later red morocco binding, with 16th-century annotations throughout — H.33.b.9
Some of these copies were prized by international collectors, others were read and studied by people of the time, whose notes record their thoughts and responses to the printed text. All these books can be consulted in the Library's Special Collections Reading Room.
We are very interested to hear about other copies of this book with marks of former ownership. If you know of such copies, do please contact us.