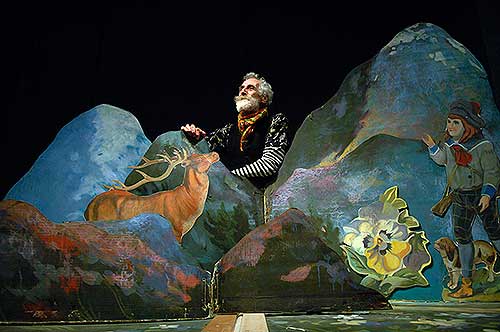 Artist John Byrne with the pop-up set he designed for John McGrath's play 'The Cheviot, The Stag, and the Black, Black Oli.'
John Byrne's giant pop-up book provides the 'scenery' for a play that was always intended to be taken round Scotland and performed in small halls and community centres. A backdrop pop-ups when a page of the book is turned, with five openings in all.
This scene is 'The Mountains'.
Explore the book using online 3D models
This truly original book is part of the National Library of Scotland's collection, but will be on view in the V&A Dundee from September 2018 for 25 years.
The play was first performed by the 7:84 Scotland company in 1973. Read more about 'Cheviot' in our '12 key Scottish plays' website.