The 2022 competition is now closed.
The Elizabeth Soutar Bookbinding Competition recognises excellence in the field of craft bookbinding.
Initiated by the National Library of Scotland in 1993, it is open to any resident of the UK or a Council of Europe member state. Recent winners have hailed from Spain, Germany, the UK, Belgium and the Netherlands.
Mrs Elizabeth A Clark (formerly Soutar) of Moray sponsored the competition from 1993 until her death in 2008. It has continued since then with support from the Magnus and Janet Soutar Fund.
After each competition, the winning entries join our collection of fine bindings.
Creative and craft binding categories
The competition aims to encourage the practice and development of both creative and craft binding skills which display individual expression and originality. Judges look for a best creative binding and a best craft binding. Each category carries two prizes — a main prize and a student prize.
We define a student as a person who has begun learning bookbinding within the past five years. We consider all student entries for both the main and student categories.
The 2022 competition theme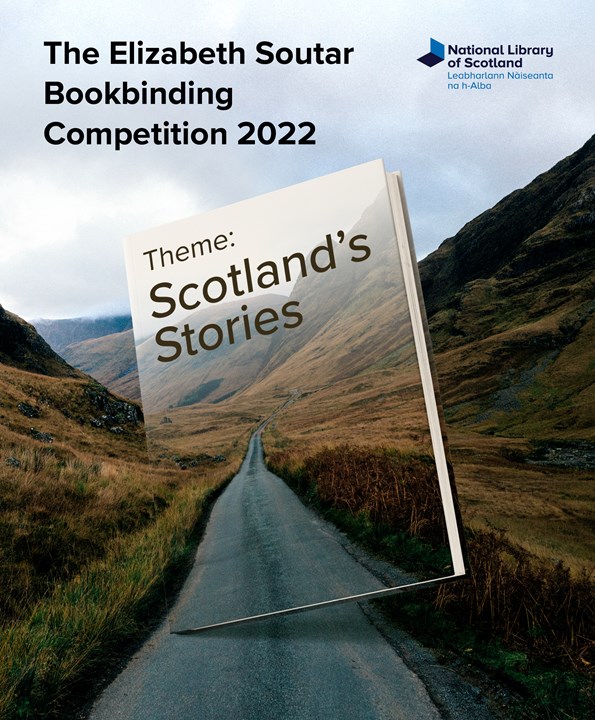 The theme of the 2022 competition is 'Scotland's Stories'.
2022 is the Scottish Government's year of Scotland's Stories, 'a showcase of the country's rich literature, film, oral traditions and myths and legends'.
We are asking entrants to submit bookbindings which relate to the creative work of Scottish authors or collections of short stories and legends relating to Scotland. We are also happy to accept entries which are translations of the work of Scottish authors into foreign languages.
Entrants might be inspired by classic authors such as Sir Walter Scott, Robert Louis Stevenson, J M Barrie and Lewis Grassic Gibbon or forgotten women writers. They can also choose from modern authors such as Janice Galloway, Irvine Welsh, Jackie Kay, Alasdair Gray, A L Kennedy and James Robertson, to name but a few. We hope entrants will be inspired by the wide range of literature produced by Scottish authors, past and present, and Scotland's vibrant literary culture.
The prizes
The prizes for each category are:
Best Creative Binding: £2,500
Best Creative Binding, student entry: £1,500
Best Craft Binding: £2,500
Best Craft Binding, student entry: £1,500
The rules
If you have entered this competition in the past, please note that we have changed the rules slightly this year.
The competition is only open to residents of the UK or a Council of Europe member state
The binding must be the entrant's own work and no others should be involved in its creation. Collaborative entries are not allowed
Entries should be a single example of a craft or creative binding. The materials used for this binding are entirely the choice of the entrant
Multiple volume entries are permissible where these constitute a single artistic entity and can therefore be judged as one entry
Participants must also be willing to lend their entries to the National Library of Scotland for a maximum period of nine months from the entry deadline to allow an exhibition of the entries to be held. It is a condition of entry that the winner donates their binding to the National Library of Scotland's fine bindings collection.
The closing date for the receipt of competition entries is Thursday 24 February 2022. Bindings received after this date will not be considered
Judging will take place in April 2022. We will inform all entrants of the result and will return non-winning bindings after the aforementioned exhibition period. The decision of the judges is final.
The winners
Usually, winners of each bookbinding competition are announced at a ceremony at the National Library's George IV Bridge building in Edinburgh. 
The winners of the 2020 competition were:
Best Craft Binding: Daniel Wray (UK) for 'Nineteen Eighty-Four' by George Orwell
Best Craft Binding (student): Matt Stockl (UK) for '1982, Janine' by Alasdair Gray
Best Creative Binding: Andreas Maroulis (UK) for 'White Noise' by Don DeLillo
Best Creative Binding (student): Gillian Stewart (UK) for 'David Hiscock: Work from 1982-90'.
A bookbinding of a 1985 edition of Voltaire's 'Candide' by Chris Hicks (UK) was highly commended.
Contact us
For more information about the Elizabeth Soutar Bookbinding Competition, contact Julie Bon, Head of Collections Care:
Email: j.bon@nls.uk
Tel: +44 (0)131 623 3860.
Additional