Page updated: 4 August.
Cine(sthesia): Last Day of the Trams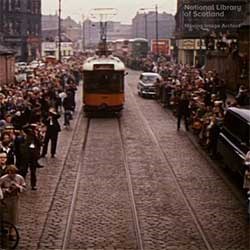 Sixty years ago on 4 September 1962, Glasgow's tram cars took their final journeys through the city.
Join us to mark the occasion with a selection of archive films that capture those final days, and the years leading up to the closure of the trams. Highlights include:
The earliest footage we hold of the trams in 1901,
A behind-the-scenes look at how trams operated in the 1930s,
A special film from the BFI which offers a poignant look at the last day of the trams.
Saturday 3 September
The films will be played on a loop between 12.00 and 16.00.
Free. No booking necessary.
Kelvin Hall, Glasgow.
Additional