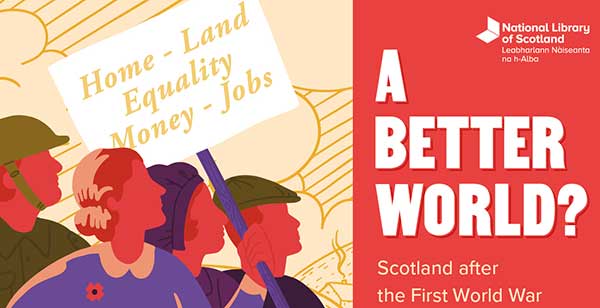 An exhibition exploring life and society in Scotland following the end of the First World War. Ran from 16 November 2018 to 27 April 2019.
The 1918 Armistice brought great celebration, but also challenges for the country to move forward in peacetime. The Ministry of Reconstruction had been established by the Government in 1917, to develop the idea of rebuilding a society which was fairer than it had been before the war: 'a better world'.
Recognition was sought for those who had fought for their country, and hopes were raised for improved working and living conditions and equality. With more of the population now able to vote, and at a time of political unrest, many seized the chance to strive for change.
Post-war Scotland revealed
Personal memorabilia, photographs, newsletters, films and other original items from the Library's collections can be seen in the exhibition. Exhibits offer glimpses into Scotland's history after the Armistice and demonstrate the challenges and the opportunities faced by the nation. Sections of the exhibition include:
Demobilisation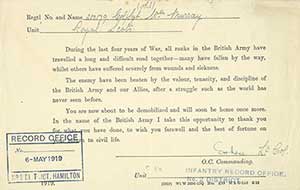 William Murray's demobilisation paper, 1919
[Library reference: Acc.7323]
Demobilising millions of soldiers on active service was one of the first challenges to address after peace was declared.
Colour Sergeant William Murray served with the Royal Scots. As a member of the Territorial Force, he was mobilised at the outbreak of war in August 1914.
As his demobilisation papers show, he was released from the Army in May 1919.
Commemoration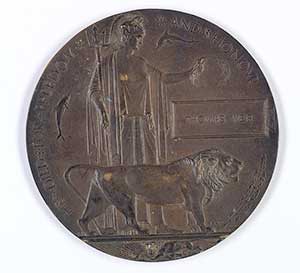 Memorial plaque of Thomas Weir,
[Library reference: Acc.13832]
A need to commemorate the war dead was strongly felt at personal, local and national levels.
A memorial plaque or 'Dead Man's Penny' was issued to the next of kin of British and Empire personnel killed during the war.
Thomas Weir, from Springburn, Glasgow was killed in Basra in 1916. He left behind a wife, Jeanie and three young children.
This penny, bearing his name, was issued to his family after his death.
Politics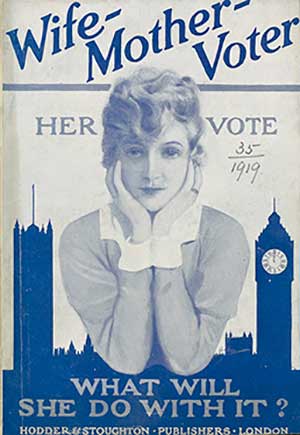 Front cover of 'Wife, mother, voter',
by R M Wilson, 1918
[Library shelfmark: 1919.35]
Soon after the Armistice, in December 1918, Prime Minister David Lloyd George called a snap election.
The electorate in Scotland had swelled from 779,000 to more than two million because of the introduction of the Representation of the People Act earlier that year.
For the first time, some women and all men over the age of 21 were allowed to vote in a parliamentary election.
In this book published in 1918, author R M Wilson offered advice to all voters as well as explaining why women deserved to be able to vote as well as men.
Wilson wrote: '[Women] held the line just as our menfolk held the line at Ypres and the Somme'.
Strikes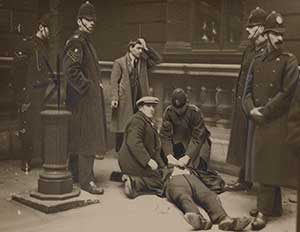 Photo of unconscious David Kirkwood, 1919
[Library shelfmark: 6.1566(22)]
A significant post-war strike in Scotland occurred when leaders of the Clyde Workers' Committee rejected a nationally negotiated agreement on working hours. They instigated a demonstration for a 40 hour week.
On 31 January 1919, nearly 100,000 strikers gathered in George Square, Glasgow and there was a violent confrontation with police.
A photograph from this event shows Clyde Workers' Committee leader David Kirkwood unconscious after being batoned.
Work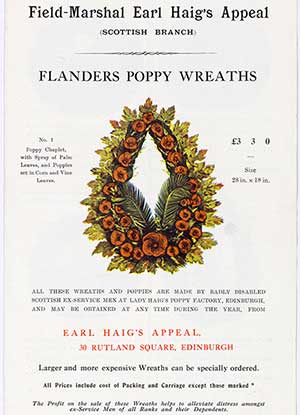 Advert for Flanders poppy wreaths, 1926
[Library reference: Acc.3155]
The post-war economic downturn, coupled with demobilisation, caused unemployment to increase in the 1920s.
Organisations like the British Legion became a lifeline for many unable to find work. As well as being a symbol of remembrance, the poppy played a part in raising funds and providing jobs for ex-servicemen, particularly those who had been left with permanent disabilities after the war.
The Lady Haig Poppy Factory established in Edinburgh in 1926, produced catalogues advertising its poppy wreaths.
Home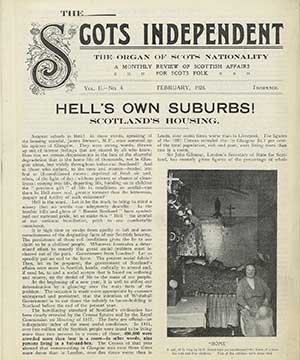 Front page of 'The Scots Independent',
Vol.II, No.4, 1928
[Library reference: Acc.5916(5)]
Before the war, Scotland had long suffered a shortage of habitable homes in both urban and rural areas, and during the war conditions worsened.
In 1919, the Housing and Town Planning Act promised government subsidies to pay for 500,000 homes across the UK within three years.
By the 1920s, the rapidly weakening economy meant this funding was cut and less than half the homes planned were completed. Many people in Scotland faced living in squalor even at the end of the 1920s, such as the family described in an article from 'The Scots Independent' magazine in 1928.
Scotland's identity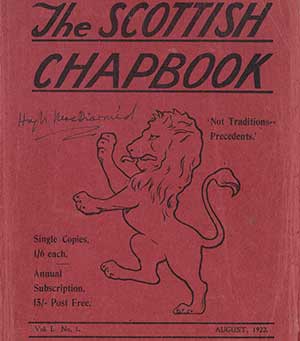 Cover of 'The Scottish Chapbook',
Vol.1, No.1, 1922
[Library shelfmark: RB.m.623]
For some, the experience of war raised the question of what they had been fighting for. Creative young Scots began to work together to shape a fresh new identity for the country.
Christopher Grieve ('Hugh MacDiarmid') was instrumental in helping the Scottish Renaissance gain pace.
He wrote poems setting out his literary version of Scots and also edited his own periodicals and magazines, including 'The Scottish Chapbook'.
Our events programme includes several talks about aspects of life and society in Scotland after the First World War.
You can also explore our interactive online exhibition where you can zoom in for a closer look at the exhibits and learn more about the history of the items on display.
Additional