This National Library of Scotland exhibition looked at the experiences of 19th-century American wildlife artist John James Audubon during visits to Scotland's capital. Ran from 4 July to 15 October 2006.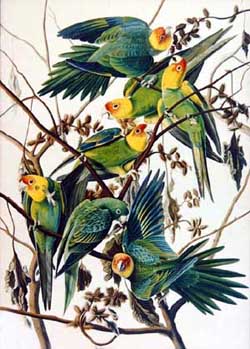 Carolina parrots by
John James Audubon
A volume of the world's most valuable books is the centrepiece of the summer exhibition at the National Library of Scotland.
'Birds of a feather: Audubon's adventures in Edinburgh' looks at the experiences of John James Audubon, regarded as one of the greatest ever wildlife artists.
Birds of America
Without his first visit to the city in 1826, Audubon (1785-1851) might never have been able to publish his world-famous book, 'Birds of America'.
His Edinburgh encounters were crucial to the production of this four-volume work. Containing more than 1,000 of his life-like paintings, it created an important record of nearly 490 bird species, some of which are now extinct.
Complete sets of the book are rare. One sold at auction in 2000 for $8.8 million.
What's on show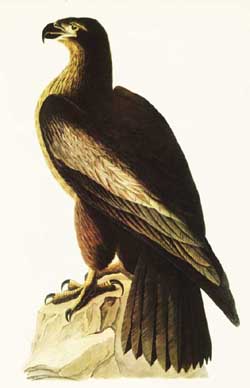 Bald eagle by
Audubon
Visiting the exhibition, which runs from 4 July to 15 October, you can:
See a 'Birds of America' volume, on loan from Renfrewshire Council Education and Leisure Services
See some of the vivid original plates from the book, on loan from the National Museums of Scotland
Learn about the key figures in Edinburgh who helped get 'Birds of America' produced
Find out how Audubon's legacy has influenced wildlife conservation
Visit a typical engraver's workshop from the 1820s.
Producing the book
We invite you to step back in time to a Georgian drawing room, and learn the story of how the production of 'Birds of America' started.
Among the brilliant and influential men Audubon met when staying in Edinburgh were:

Audubon
© Iain McIntosh
50th anniversary
The exhibition's opening date is also the anniversary of the opening of our George IV Bridge Building by the Queen in 1956. Online, in 'George IV Bridge   celebrating 50 years', we are highlighting a different item from the collections every week, each one representing a year of collecting.