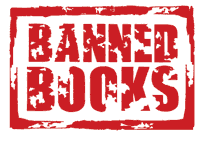 We ran a competition for visitors to our 'Banned books' exhibition in September to mark Banned Books Week 2011 (24 September to 1 October).
The quiz featured the opening lines of 10 of the books most frequently challenged in the United States over the past decade. Entrants were asked to identify the title and author of each of the books.
Congratulations to the winning entrant, Naomi Mason of Edinburgh, who won an Amazon Kindle.
The American Library Association set up Banned Books Week in 1982 to raise awareness of censorship and to stimulate debate, and also maintains lists of frequently banned books.
The quotes
Here are the 10 lots of opening lines from the quiz, plus three others. In case you want to have a go at identifying them, we've put the answers at the end, along with the reasons given for the challenge.
Quote 1:
'Lyra and her daemon moved through the darkening Hall, taking care to keep to one side, out of sight of the kitchen.'
Go to answer 1
Quote 2:
'When he was nearly thirteen my brother Jem got his arm badly broken at the elbow.'
Go to answer 2
Quote 3:
'If you really want to hear about it, the first thing you'll probably want to know is where I was born, and what my lousy childhood was like, and how my parents were occupied and all before they had me, and all that David Copperfield kind of crap, but I don't feel like going into it, if you want to know the truth.'
Go to answer 3
Quote 4:
'A low grey building, of only 34 floors. Over the main entrance the words CENTRAL LONDON HATCHING AND CONDITIONING CENTRE, and below that the motto of the World State, COMMUNITY, IDENTITY, STABILITY.'
Go to answer 4
Quote 5:
'You don't know about me, without you have read a book by the name of The Adventures of Sawyer, but that ain't no matter.'
Go to answer 5
Quote 6:
'The accused man, Kabuo Miyamoto, sat proudly upright with a rigid grace, his palms placed softly on the defendant's table – the posture of a man who has detached himself insofar as this is possible at his own trial.'
Go to answer 6
Quote 7:
'A few miles south of Soledad, the Salinas River drops in close to the hillside bank and runs deep and green.'
Go to answer 7
Quote 8:
'You better not never tell nobody but God. It's kill your mammy.'
Go to answer 8
Quote 9:
'All this happened more or less. The war parts, anyway, are pretty much true. One guy I knew really was shot in Dresden for taking a teapot that wasn't his.'
Go to answer 9
Quote 10:
'We slept in what had once been the gymnasium. The floor was of varnished wood, with stripes and circles painted on it, for the games that were formerly played there; the hopes for the basketball nets were still in place, though the nets were gone.'
Go to answer 10
Quote 11:
'They're out there. Black boys in white suits up before me to commit sex acts in the hall and get it mopped up before I can catch them.'
Go to answer 11
Quote 12:
'I became what I am today at the age of twelve, on a frigid overcast day in the winter of 1975.'
Go to answer 12
Quote 13:
'I am doomed to remember a boy with a wrecked voice – not because of his voice, or because he was the smallest person I ever knew, or even because he was the instrument of my mother's death, but because he is the reason I believe in God.'
Go to answer 13
The answers
Answer 1:
'Northern Lights' ('The Golden Compass') by Philip Pullman, 1995.
Challenged for being anti-God, anti-Catholic and anti-religion, having anti-religious content, presenting an anti-Christian doctrine.
Answer 2:
'To Kill A Mockingbird' by Harper Lee, 1960.
Challenged for language ('damn' and 'whore lady'); profanity and racial slurs; racial themes; profanity; degrading to African Americans; contains adult themes such as sexual intercourse, rape and incest; promotes racial division and racial hatred.
Answer 3:
'The catcher in the rye' by J D Salinger, 1945.
Challenged for language and content; sexual references and profanity; blasphemous and undermines morality; depicts pre-marital sex, alcohol abuse and prostitution; centred around negative activity.
Answer 4:
'Brave new world' by Aldous Huxley, 1932.
Challenged because of: language and moral content; centres around negative activity; shows contempt for religion, marriage and family; contains adult themes — sexuality, drugs and suicide; too many references to sex and drug use.
Answer 5:
'The adventures of Huckleberry Finn' by Mark Twain, 1884.
Challenged because of language (frequent use of 'nigger') and for being racist; racially offensive, derogatory references to African Americans, perpetuates hate and racism.
Answer 6:
'Snow falling on cedars' by David Guterson, 1994.
Challenged because of descriptions of sexual intercourse, masturbation and obscene language, racial epithets, sexually graphic passages, profanity.
Answer 7:
'Of mice and men' by John Steinbeck, 1937.
Banned and challenged because of profanity, vulgar language, racial slurs, and for being indecent.
Answer 8:
'The color purple' by Alice Walker, 1982.
Challenged because of its troubling ideas about race relations, man's relationship to God, African history, and human sexuality; explicit sex scenes; profanity and sexual references; sexually graphic and violent; portrayal of homosexuality, rape and incest.
Answer 9:
'Slaughterhouse-Five' by Kurt Vonnegut, 1969.
Challenged because of explicit sexual scenes, violence and obscene language; depictions of torture, ethnic slurs, and negative portrayals of women; deviant sexual behaviour; violent imagery.
Answer 10:
'The handmaid's tale' by Margaret Atwood, 1985.
Challenged because of profanity, lurid passages about sex, offensive to Christians.
Answer 11:
'One flew over the cuckoo's nest' by Ken Kesey, 1962.
Challenged for glorifying criminal activity, being pornographic, promoting secular humanism, corrupting juveniles, containing descriptions of bestiality, bizarre violence, and torture.
Answer 12:
'The kite runner' by Khaled Hosseini, 2003.
Challenged because it depicts a sodomy rape in graphic detail and uses vulgar language.
Answer 13:
'A prayer for Owen Meany' by John Irving, 1989.
Challenged because of its content and language and for being pornographic, offensive and vulgar.