'Banned books' exhibition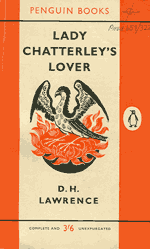 Publications with explicit sexual content have often been the target of censorship reinforced by common or statutory law.
The first Obscene Publications Act came into force in Britain 1857. Its aim was to protect 'women, children and the feeble-minded' from material deemed likely to corrupt them or 'of a nature calculated to shock the common feelings of decency in any well-regulated mind'.
Importing censored material
To escape the censors, authors would often publish abroad or use pseudonyms and fictitious imprints. Works were also published in expensive limited editions for private circulation only.
To prevent this material from being imported, Customs officials were empowered to seize and destroy any obscene or indecent works that travellers attempted to smuggle into the country.
Convictions often overturned
After the Obscene Publications Act was updated in 1959 to include a defence of literary merit, it became increasingly difficult to secure a conviction. Even when convictions succeeded, they were frequently overturned on appeal.
Some of the exhibits on this theme: 
Not just a sex manual!
The 'Kama Sutra' is an ancient courtship or marriage manual originally written in Sanskrit, sometime between the first and sixth centuries AD. The explorer Sir Richard Burton arranged for various manuscript fragments to be brought together and translated into English. Burton and F F Arbuthnot created the Kama Shastra Society, supposedly based in Benares, to publish erotic works for private circulation.
On display: 'The Kama Sutra of Vatsyayana'. (Cosmopoli [i.e. London?], for the Kama Shastra Society of London and Benares, and for private circulation only, 1883).
Changing attitudes
Sir Richard Burton's original translation of the 'Kama Sutra' was divided into seven parts, only one of which concerned sex. The other parts advise on housekeeping and social interaction, including how to choose and treat a partner. Today, the 'Kama Sutra' has become a byword for texts on sexual practice and is often regarded with humour, e.g. 'Kama Sutra in pop-up' and 'The Kama Sutra for Cats'.
On display: 'The Kama Sutra in pop-up', by Sir Richard Burton and F F Arbuthnot. (London, Collins & Brown, 2004).
'A book I disdain to defend, and wish, from my soul, buried and forgot'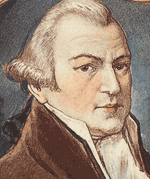 John Cleland wrote 'Memoirs of a woman of pleasure' while languishing in Fleet prison for unpaid debts. In 1749, he was arrested and charged with publishing an obscene book, which resulted in it being withdrawn. An expurgated version called 'Memoirs of Fanny Hill' was produced in 1750 and survived a prosecution attempt by the Bishop of London. The unexpurgated version remained banned in Britain until 1970.
On display: 'Memoirs of Fanny Hill, a woman of pleasure', by John Cleland (London, 1919).
Sadism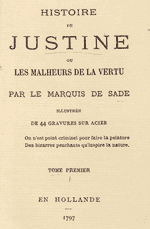 Donatien Alphonse François de Sade is known both for his scandalous licentious lifestyle and his erotic works. Justine and Juliette are convent-educated sisters - the virtuous Justine, always the victim, the debauched Juliette, evil personified. Written while de Sade was incarcerated in the Bastille, 'Justine' first appeared anonymously in 1791, followed by 'Juliette' in 1797. In 1801, Napoleon Bonaparte ordered de Sade's arrest without trial. Initially imprisoned, he was later transferred to an asylum for the insane at Charenton, where he died in 1814.
On display: 'Histoire de Justine, ou, Les malheurs de la vertu' and 'Histoire de Juliette, ou, Les prospérités du vice', by the Marquis de Sade'. (Both 'En Hollande' [i.e. Paris?], 1797).
'Not for maids, ministers or striplings'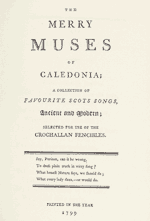 'The merry muses' is a collection of bawdy verse taken from a manuscript that was in the possession of Robert Burns's widow, Jean Armour. First published posthumously in 1799, it is doubtful that Burns intended it to be published. It contains his own work and songs he collected for the amusement of his friends in the Crochallan Fencibles, an Edinburgh drinking club. Many editions have been published over the years, most with slight variations or censored text. Imprints have often been falsified to avoid prosecution for obscenity.
On display: 'The merry muses: A choice collection of favourite songs' by Robert Burns (Dublin. Printed for the Booksellers, [1804]).
Acceptable in French but not in translation
Henry Vizetelly was twice found guilty of obscenity for publishing English translations of Emile Zola's works. In 1888, he was fined £100 with one year's probation for publishing translations of 'Nana', 'Pot-bouille' and 'La Terre'.  In 1889, he was sentenced to three months' imprisonment for continuing to publish translations of Zola and other French writers.  Vizetelly's health never fully recovered and he died in 1894.
On display: 'Nana: A realistic novel' by Emile Zola (New edition, London, Vizetelly & Co, 1884).
'My skirmish with Jolly Roger'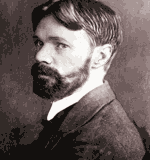 Wishing to avoid a battle with the British censors, D H Lawrence arranged for his novel 'Lady Chatterley's lover' to be privately printed in Florence in July 1928. Within months of publication, more expensive pirated editions began to appear. In response, a cheap popular edition with an introductory essay by Lawrence against the piracies was published in Paris in April 1929.
On display: 'Lady Chatterley's lover, including, My skirmish with Jolly Roger' by D H Lawrence ([Paris], Privately printed, 1929).
Oh crumbs! 
In1971, Jim Anderson, Felix Dennis and Richard Neville were charged with obscenity and corrupting the morals of young children. Editors of the satirical magazine 'Oz', they had published sexually explicit images of Rupert Bear superimposed on a Robert Crumb cartoon strip. They were refused bail, forced to have their long hair cut, and when found guilty at the Old Bailey received prison sentences. Later their sentences were overturned on appeal.
On display: 'Oz', issue 28, 'School kids issue' (London, Oz Publications, 1970).
'If this book is not obscene within the definition of the Act it might well be difficult to imagine anything that would fall into that category'
'Inside Linda Lovelace' is the story of the star of the hard-core film 'Deep Throat'. Lovelace's real-life sexual experiences are described, as well as the making of the film. In 1976, the publisher, represented by John Mortimer and Geoffrey Robertson, was acquitted of a charge of obscenity on the grounds that the book was unlikely to deprave or corrupt those who were likely to read it.
On display: 'Inside Linda Lovelace' by Linda Lovelace (London, Heinrich Hanau, 1974).