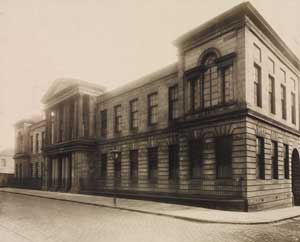 Bartholomew's former premises in Duncan
Street, Edinburgh.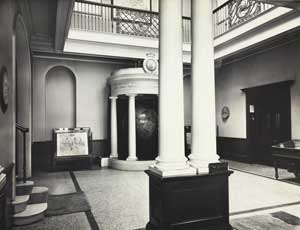 The foyer.
The Bartholomew mapmaking firm moved to Duncan Street from Park Road in Edinburgh in 1911.
Documents in the archive at the National Library of Scotland tell us a great deal about this building.
For example:
The plastering cost £548 13s 5d
John Gibson and Son built the copperplate safe
Rebuilding the portico (from Falcon Hall) cost £273 7s 10d
Total costs by 31 December 1911 were £14,596 2s 2d which would be about £10 million today.
Welcoming entrance hall
The opulent double-height entrance hall had room enough for a striking hanging globe on the ground floor and display space for Bartholomew's maps on the first.
This was a welcoming space — and indeed Bartholomew encouraged visitors by putting on exhibitions there.
Bartholomew's Duncan Street premises came to life in the Bartholomew exhibition, which ran at the National Library of Scotland from 7 December 2012 to 7 May 2013.