Scotland's love affair with the movies was the focus for our summer exhibition in 2012, which ran 15 June to 28 October.
Explore the story of cinema in Scotland for the past 120 years.
From the first screening in 1896 to modern-day blockbusters, we present a century of Scots and Scotland on the big screen.
Original footage from the Scottish Screen Archive [now the Moving Image Archive] and elsewhere ranges from clips from famous movies to local films of community life in Scotland.
As well as how 'Scottishness' has been portrayed on celluloid, the exhibition charts the changing pattern of 'going to the pictures' — that's 'cinema-going' in Scotland, in case you're not sure.
Watch our mini-movie trailer to see some of the fascinating pieces in our exhibition:
Stars of the big screen
Stunning film posters, cinema adverts, movie annuals, and film stars images are among items on show from National Library of Scotland collections and other sources.
Home-grown acting talent is well represented, of course. Alongside the likes of Mary Pickford, Katharine Hepburn, Errol Flynn and Orson Welles are:
Sir Sean Connery
Deborah Kerr
Ewan McGregor
Tilda Swinton
Gerard Butler
Peter Mullan.
Disney Pixar movie 'Brave' features the voices of Kelly Macdonald and Billy Connolly, among others, and material relating to this eagerly waited film is on show.
Scots at the cinema
Some of the film and photo exhibits illustrate how cinema-going in Scotland developed across the decades, despite an inauspicious beginning in Edinburgh.
When the country's first cinematograph show took place there at the Empire Palace Theatre (now the Festival Theatre) in 1896, it failed to excite the audience. But it started a relationship with films that would see huge movie palaces being built in the 1930s to cope with demand.
The number of Scottish towns with their own cinema had in fact been growing since before the First World War. By 1914, small communities like Fort William and Dumfries had a cinema, while Edinburgh could boast 43 screens!
Films of Scottish life
Also celebrated in the exhibition is the pioneering work of documentary film-making in Scotland through the Films of Scotland Committee.
Set up in 1938, the committee made films recording many aspects of Scottish life, mainly to promote Scotland at home and overseas.
John Grierson, regarded as the 'father of documentary film' was its first chairman.
On our screens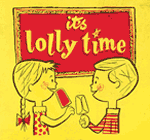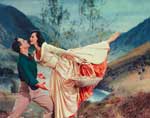 On screens around the exhibition and in our 10-seater mini-cinema you can watch some of those documentaries, along with fiction film clips. Over 70 of the films are from the Library's collection of moving image — and some of these are being shown publicly for the first time.
The 20-minute programme in the cinema area features short films and clips, including:
Pearl and Dean advertising from around 1973
Ads for the Co-op (around 1950s and 1960) and for products such as Bluebell margarine (around 1964)
An ABC Minors matinee trailer from around 1963 called 'Nothing's too good for your children'
'Gasman', directed by Lynne Ramsay (1997)
'Orphans', directed by Peter Mullan (1999)
'New Town killers', directed by Richard Jobson (2008)
And you may be interested to know that the two rows of seats, on loan from National Museums Scotland, came from the Vogue / Odeon in Rutherglen, Glasgow, which opened in 1936. (It closed as a cinema in 1974.)
Bringing back memories
Cinema's glamour and the excitement of going to the pictures has affected almost everyone, and we hope our exhibition will bring back memories.
No matter how you've been involved with films — as a viewer or as someone who worked in the industry — we're bound to have something to take you back in time and make you smile.
The Edinburgh Cinematic Walking Trail
After you've enjoyed the exhibition, why not visit some of the locations where films such as 'Trainspotting' and 'One day' were shot.
With Cinematic Scotland we have produced the Edinburgh Cinematic Walking Trail — a unique, informative and fun walking trail around Edinburgh. As well as film locations, it includes the sites of the city's historic cinemas.
Pick up a copy of the walking trail leaflet outside the exhibition hall at the Library, or at the Filmhouse, the Cameo Cinema or Edinburgh Tourist Information Centre.
You can also download a version from the Cinematic Scotland website:
Walking tour map (full-colour PDF: 10 MB: 4 pages)
Supporting the Year of Creative Scotland 2012
Additional