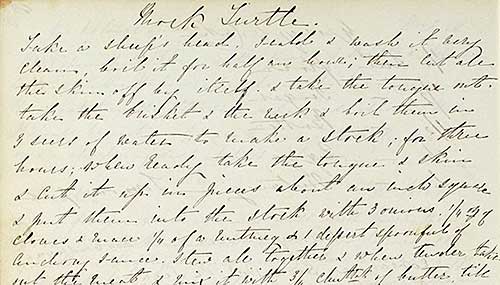 Sarah Reddie's recipe for mock turtle soup.
Sarah Reddie was the wife of an army officer from Fife. She started her recipe book in 1847, recording recipes for oyster pudding, mock turtle soup, and 'Scotch shortbread'.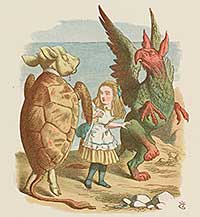 Alice in Wonderland with
the Mock Turtle and
the Gryphon.
Turtle soup was a dish for special occasions which only the rich could afford, as it contained actual turtle meat. Mock turtle soup was a cheaper version, which used a calf's or sheep's head to imitate the taste and texture of turtle.
Sarah Reddie's recipe from around 1847 was a substantial dish with meat balls and hard boiled eggs.
Alice and the Mock Turtle
So popular was mock turtle soup that Lewis Carroll made it a character in his children's classic 'Alice in Wonderland'. This illustration by John Tenniel is from the 'Nursery Alice' published in 1890.
This recipe was on show in 'Lifting the lid', our exhibition on food history in Scotland, which ran at the National Library of Scotland from 12 June to 8 November 2015.