A touring exhibition celebrating aspects of Highland cultural life, past and present. Part of the Highland 2007 project. Ran from January to December 2007.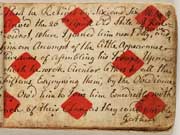 Jacobite journal
Iconic objects from the national collections are revealed in a major exhibition on Highland culture.
Fonn 's Duthchas: Land and Legacy reflects the roots, values and cultural heritage of the people of the Scottish Highlands.
Material from the National Library of Scotland, National Museums Scotland and the National Galleries of Scotland is used to illustrate the relationship between land and people.
Library exhibits
As well as other items from the National Library's collections, visitors will see:
A manuscript of Sir Walter Scott's novel 'Rob Roy'
A copy of 'Ossian', James Macpherson's cycle of poems, owned by Napoleon Bonaparte
The Iona Psalter, probably written between 1180 and 1220 in Oxford
An account of the Battle of Culloden in a Jacobite journal written on playing cards
'The Lyon in Mourning', a contemporary account of the 1745-1746 Jacobite uprising. (Read a transcription of this in our feature Scottish History in Print.)
The order for the Massacre of Glencoe, 1692. Because it is so fragile, the original order will only be displayed in Inverness. A facsimile will be used at the other venues.
Modern literature is also represented, with material by Sorley Maclean and Iain Crichton Smith among the items on display. And bringing things well up to date is a Gaelic language text messaging guide!
Touring schedule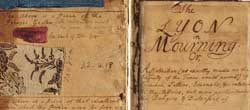 Inverness: Museum and Art Gallery
13 January to 17 March
Glasgow: Kelvingrove Art Gallery and Museum
6 April to 10 June
Edinburgh: National Museum of Scotland
29 June to 2 September
Stornoway: Museum nan Eilean
21 September to 1 December