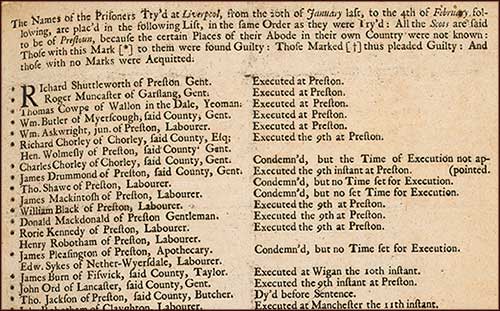 Part of a list of Jacobites who surrendered at Preston.
The Jacobites at Preston were surprised by the unexpected arrival of government soldiers on 12 November 1715 and prepared barricades to defend the streets. The town was surrounded and the Jacobites surrendered on the 14th, much to the anger of many Scottish Jacobites who wished to try and fight their way out.
When the Jacobites surrendered at Preston they did so at discretion, meaning all they could hope for was not to be immediately killed by their captors.
High-ranking Jacobites were sent to London for trial. The less important were tried locally, and the rank-and-file were held in Preston for a month before being transferred elsewhere.
Six of the Jacobite officers captured at Preston were judged to still be enlisted in George I's army. They were made an immediate example of and sentenced to be shot.