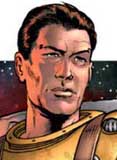 Holy haggis, Batman! Our spring 2008 exhibition looked at key development in the world of comics and graphic novels, revealing the contributions made by Scots. Ran from Friday 4 April to Sunday 1 June 2008.
Marvel at groundbreaking comics from the 1930s! View the first British graphic novel! See manga Shakespeare!
If all of that makes sense, you probably should be visiting our graphic novels exhibition. And if it means nothing to you at all, you might want to take a look and find out why some people are passionate about comics.
Material spanning a century
In 'Local Heroes' we explore the origins of comics and their progress through the 20th century.
From them in the 1970s and '80s sprang the graphic novel, which is gaining increasing respect as a form of graphic literature.
On display we have comic, graphic novels and original artwork spanning more than a century.
As well as contemporary material, we have examples from the 'golden age' of comics — the 1930s. This decade gave us iconic figures — Batman, Superman and Wonder Woman, from the USA, and, closer to home, Tintin.
Scottish connections
Scotland has had a part to play in the 'coming of age' of comics. Scottish artists and writers have contributed to everything from 'The Beano' and 'The Dandy' through to 'Marvel', 'Dark Horse' and '2000 AD'.
Some of the 'heroes' among today's contributors are Scots — Frank Quitely, Gary Erskine, Cam Kennedy and Alan Grant, to name only a few.
The most recent collaboration between Kennedy and Grant was the graphic novel of Robert Louis Stevenson's dark take, 'Dr Jekyll and Mr Hyde'.
This followed their highly acclaimed re-telling of Stevenson's popular adventure story, 'Kidnapped'. Cam Kennedy's striking artwork is now in our collections, and is on prominent display in the exhibition.
'Local Heroes' also includes a seven-minute video of a spoof interview with writer Grant Morrison, made for Channel 4 in 1988, from the Scottish Screen Archive.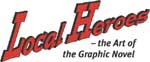 Local heroes: The art of the graphic novel
Friday 4 April to Sunday 1 June 2008