A National Library of Scotland exhibition of photographs of Scotland's diverse Asian communities by Herman Rodrigues: 10 March to 22 May 2006.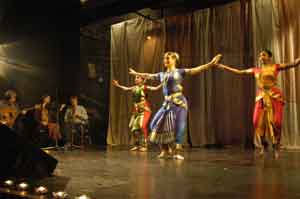 Indian dancers and Scottish folk musicians.
Many prominent themes of Asian life today are explored in an free exhibition at the National Library of Scotland devoted to 'The New Scots'.
Fifty colour photographs are on display, highlighting the diversity of Asian lifestyles and cultures in Scotland, from Dumfries to Stornoway.
People, places and tartan
Photographer Herman Rodrigues has recorded community history, new immigration, religions, professions, activities, historical buildings - and the Sikh Scottish tartan.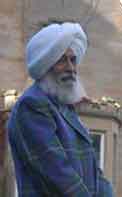 Baron Sirdar Iqbal
Singh.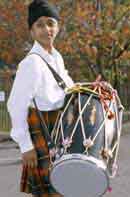 Jeevan Singh wears
Leith Sikh tartan.
He has even brought out some surprising facts.
Did you know, for instance, that the Leith area of Edinburgh has its own tartan? Or that Madras College in St Andrews is named after the educational system of the Indian region?
Burns's poems translated
Visitors to the exhibition can also see some of the wealth of material relating to Scotland's Asian communities which is held in NLS collections. Included are books, letters, pamphlets and posters, and translations of Robert Burns's poetry into Urdu and Punjabi.
Herman Rodrigues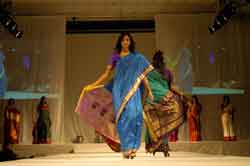 Asian models at fashion show.
Herman Rodrigues is a photographer, chef and Edinburgh restaurant-owner who arrived in Scotland from India in 1990. His photography has two aims:
To express the colour and vibrancy of the Asian community
To bring different communities together and dispel racial stereotypes
All photos on this page: © Herman Rodrigues
See also: General information about South Asian collections at NLS