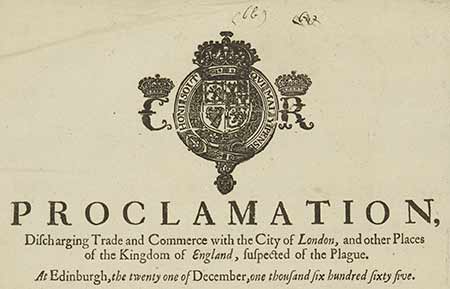 Proclamation from Edinburgh in 1665, restricting trade with plague-infested England.
Governments imposed quarantines and restrictions on goods imported from plague-infected areas, in order to prevent the spread of disease.
This proclamation, published in Edinburgh on 21 December 1655, imposed continuing trade restrictions with London:
'Albeit by the infinite mercy of God, this Kingdom hath been hitherto preserved from the plague of Pestilence, which hath long continued at London, and broken out in many other Towns and Places of the Kingdom of England; yet the danger and fear of infection is as great as it hath been heretofore […] the plague is not yet altogether ceased, and that all Goods and Merchandise to be imported from thence, may be yet fully suspected.'
This item was on show in 'Plague!', our exhibition on Scotland's history of disease, which ran at the National Library from 11 December 2015 to 29 May 2016.