From Mendelssohn's Scottish symphony to Australia's 'Waltzing Matilda', 'Scots Music Abroad' explored the influence Scotland has had on world music. The exhibition ran from 6 March to 9 May 2009.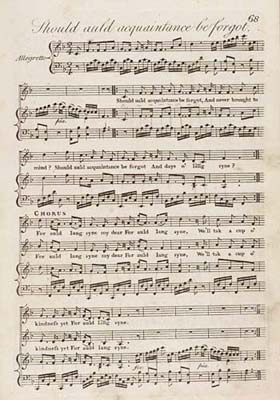 George Thomson's version of
'Auld Lang Syne', 1799
Follow the journey of Scots music abroad through original musical manuscripts, sound recordings and emigrants' journals.
Exhibition highlights included:
Alexander Turner's voyage diary from Scotland to Australia (1833)
Scottish poet and novelist James Hogg's fiddle
Different musical versions of 'Auld Lang Syne'
Music by entertainer Harry Lauder (1870-1950) — described by Sir Winston Churchill as 'Scotland's greatest ever ambassador'
Canada's Cape Breton fiddle music.
Listen to music clips from the exhibition
Scots emigrants
Scots have travelled the world for many centuries. Some went abroad to serve in the army and navy. Others left Scotland for 'New World' countries like Canada, Australia New Zealand and the United States.
These emigrants came from all walks of life and they all took their music with them. In many cases this was never written down, simply passed down the generations by song.
Cultural influence of Scottish music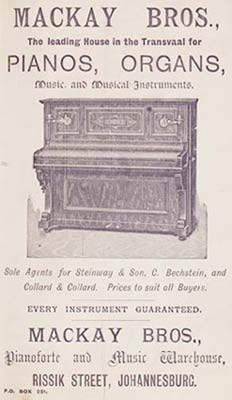 Mackay Bros pianos advert in a
Caledonian Society programme,
Johannesburg 1897
From Europe through Asia, Africa and Australasia to North America, Scottish music has left its mark on the world. In 'New World' countries it played a significant part in shaping cultural identity. Where countries have had more established cultures — India, for example — the role has been a more complementary one.
Canadian music has been hugely influenced by Scots emigrants, particularly fiddle music. It is still possible to detect Scottish regional fiddle styles in different areas of the country.
European connections
In Europe, Scottish influence was very different. Classically trained musicians and composers provided the connections between Scotland and the European continent.
Scottish publisher George Thomson (1757-1851) invited a number of composers including Joseph Haydn (1732-1809) to write arrangements of Scottish songs. Many European composers were later inspired — through the literature of Robert Burns and others — to write music on Scottish themes.
Scots music comes home
Since the early days, Scottish emigrants have returned home, either permanently or on visits. Scots-based musical styles, further developed abroad, have returned with them. This music has in turn had a major influence on contemporary music in Scotland.

The exhibition supported Homecoming Scotland 2009 — a year-long programme celebrating Scottish culture and heritage.