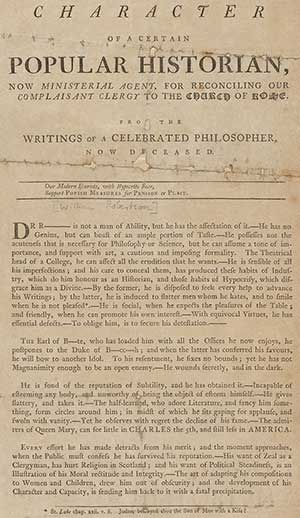 'Character of a certain popular historian', 1779 [Library shelfmark: MS.3118, f.199].
The Scottish Enlightenment fostered a culture for questioning and debating within academic circles. In some cases this manifested as rivalry between different academics, as they criticised and challenged each other's ideas and beliefs.
This pamphlet was thought to have been written by the historian Gilbert Stuart (1742-1786), attacking the character of the noted historian William Robertson (1721-1793).
As well as holding a position with the University of Edinburgh, William Robertson led the 'Moderates' in the Church of Scotland, a group which supported Catholic toleration.
In the booklet, Robertson's abilities as a historian and his religious sympathies are brought into question. The author also attributes his success as a historian to cheap tricks and indulgent patronage.
Additional