Our exhibition illuminates Scotland's contribution to the flourishing intellectual artistic and scientific progress of the Enlightenment. Ran from 21 June 2019 to 18 April 2020.
18th-century Europe was a place for investigation and debate. Eschewing authoritarianism, individuals questioned received wisdom and used reason and experiment to draw their own conclusions.
Scotland took a leading role in the Enlightenment, contributing original thinking in philosophy, economics and literature, and innovation in science.
Visitors can view important items from our rare books and manuscripts collections and learn the stories behind them in a series of themed sections.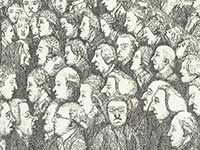 Pre-Enlightenment Scotland
In the late 17th century key institutions, individuals, laws and events set the scene for the advent of the Enlightenment in Scotland.
More about Pre-Enlightenment Scotland
The Enlightenment story develops in a further six themes. Items on display reveal the work of influential intellectuals, and the impact and development of their ideas and achievements.
Kay engravings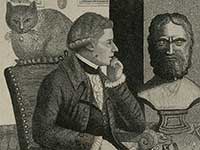 Throughout the exhibition, the engravings of John Kay have been used to illustrate the different sections and themes. Read more about John Kay engravings.