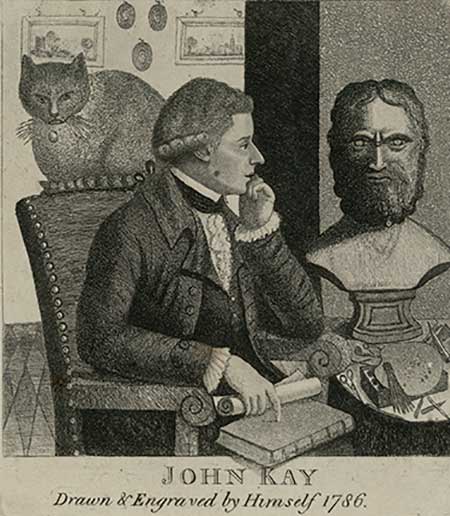 Self portrait by John Kay, 1786.
Many of the portraits illustrating our Scottish Enlightenment exhibition are included in 'A series of original portraits and caricatures etchings by the late John Kay. With biographical sketches and illustrative anecdotes', 1837-1838 [Library shelfmark: L.C.1344-1345].
John Kay (1742–1826) started a career as a barber, but gave up this profession in 1785 to become caricaturist. He created many portraits and etchings, and sold them from a small shop at 10 Parliament Close, Edinburgh.
In total, Kay produced nearly 900 etchings.
Although his drawings were not renowned for their artistic merit, they provide a historically valuable insight into late 18th-century Edinburgh.
He captured anonmymous figures and scenes from everyday life, as well as the promiment Scottish citizens of the time, many of whom contributed to the Enlightenment.
Adam Smith, William Robertson, Hugh Blair, Joseph Black and James Hutton are just some of the intellectuals he immortalised in his caricatures.