Captivating tales and images of travel in Scotland were brought together in the annual summer exhibition at the National Library of Scotland in 2003. The exhibition ran from 1 June to 31 October.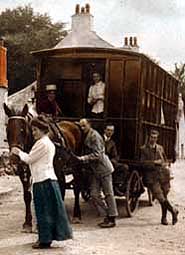 Elsie Jollyman in the
Scottish Highlands, 1909.
Scotland has welcomed visitors for hundreds of years. Many have recorded their impressions of the people they met and the things they saw.
These informal accounts — pinpointed in time — let us glimpse the changing face of Scotland through their eyes.
Journals and diaries from the Library's collections show the development of tourism across 400 years, with each traveller's observations put in context using documents, illustrations and everyday objects from the period.
The Scottish experience
Whether famous figures, such as Dr Samuel Johnson, or the likes of Elsie Jollyman — an Edwardian woman touring in a horse-drawn caravan — the writers present colourful perceptions of life and landscapes they encountered as they journeyed.

Moffat, 1795.
'We had some of their wisky with wich we made what is called tody being wisky mixed hot water and sugar … we returned to our boat and very merryly rowed home' — Stephen Place, 1832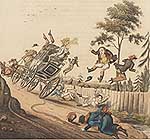 Coach cartoon, 1825.
'No sooner were we seated and driven from the inn door than the Off horse strove to bite the neck of its companion … we were much alarmed' — Judith Beecroft, 1833.

Edinburgh,
1829.
'We could understand nothing on this side of what the people said any more than if we had been in Morocco' — Daniel Defoe, 1727.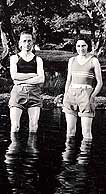 John Taylor and
friend, Loch Chon,
1932.
'Of course, Scotland has a short season and it is a question (often a desperate one in view of the vagaries of the Scottish weather) of "making hay while the sun shines"' — John Taylor, 1934.
Rail tickets, photos and postcards
Maps, transport notices, rail tickets, photographs and postcards on display in the exhibition also contribute to the impressions of 'the Scottish experience' from days gone by.
A pistol that belonged to Robert Burns is among the exhibits on loan to help set the scene — and we even have a 1930s motorcycle!
Reel time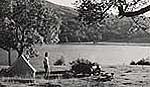 Camping scene, 1930s.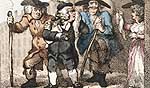 Dr Johnson sets out
from Edinburgh.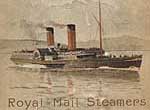 Steamer brochure,
1896.
Amateur and professional 20th-century film footage has its place in our exhibition, too. While you are here you can sit back and enjoy 10 short 'Holiday reels'.
Take in 'Holidays scenes at Rothesay' (1921), have a look at 'St Andrews' (1953 — golf included) and enjoy 'A busman's holiday' (1959 — and, yes, it is about a bus driver who takes a bus tour!).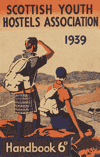 Scottish Youth
Hostels
Association
handbook, 1939.
Winning tales
Two of our summer visitors can win a Freedom of Scotland travel pass, simply by writing about their favourite holiday memory on one of our special postcards and dropping it into the exhibition pillar box.
The first prize in our competition, which is sponsored by ScotRail, is an eight-day family pass, and the second winner will have a four-day pass for two adults.