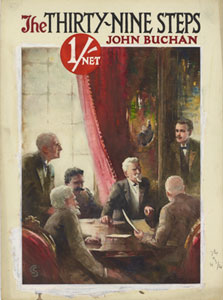 Original cover artwork.
John Buchan (1875-1940) had been a prolific published writer for 20 years when he started what would be known as a 'shocker' in 1914. The world was at war, and he found the writing of his slim spy thriller a welcome distraction. He wrote later:
'While pinned to my bed during the first months of war and compelled to keep my mind off too tragic realities, I gave myself to stories of adventure.'
The result, 'The thirty-nine steps', proved an immediate success. It's a contemporary shocker set very precisely in a few weeks in May and June 1914, before the outbreak of war. The hero is Richard Hannay.
Published first as a serial in the summer of 1915, and in book form in October, over 25,000 copies were sold in the first three months. It has remained in print ever since.
The items we look at on these pages will illustrate the different aspects of the story.
Overview of John Buchan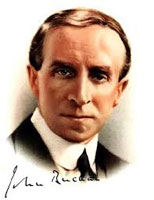 Cigarette card, 1937.
John Buchan was born in Perth on 26 August 1875. Although his father was a Free Church minister who might have been expected to be strict, he was instead a lively character with an enthusiasm for border ballads and other Scots songs which he recited or sang to the family. His mother, on the other hand, epitomised Free Church virtues. She was hard, reserved, and respectable.
Between them they gave young John two Scottish points of reference on which much of his fiction rested. Their different attitudes to respectability also provided a productive source of tension. Buchan developed a very sharp awareness, both of the need to be respectable, and of the sense that it's the eccentrics that get things done.
War time work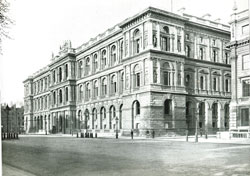 Foreign Office, Whitehall.
John Buchan had a busy war.
Although not fit for active service, he was industrious at Nelson the publisher, writing their 'History of the War', 50,000 words an instalment, initially published every two weeks.
He took on key roles at the War and Foreign Offices, and was appointed Director of Information. Buchan found precious time, however, for more Richard Hannay.
His hero quickly re-appeared in 'Greenmantle' and 'Mr Standfast', both written and set during the First World War.
Buchan went on to write better novels, but the original tale of a man on the run from dark forces remains his most famous and has been hugely influential.