Creation of a new genre
'I was in the soup — that was pretty clear… he had been in my rooms four days, and his enemies must have reckoned that he had confided in me. So I would be next to go. It might be that very night, or next day, or the day after, but my number was up all right!'
— Chapter 1: The milkman sets out on his travels.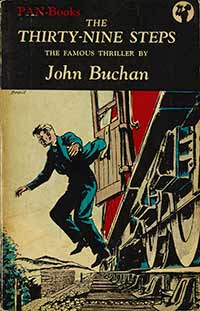 1949 Pan paperback edition.
Richard Hannay, hero of 'The thirty-nine steps', describes himself as 'an ordinary sort of fellow, not braver than other people' and also 'the best bored man in the United Kingdom'. Yet, within the first chapter of the novel, he finds himself caught up in a dangerous and exciting drama involving spies, murder, an unknown enemy, and a rapid escape.
As well as trying to save his own life, Hannay is also motivated by the desire to solve the mystery and to save his country from enemy forces.
Hannay is one of the earliest examples of the innocent 'man on the run', now a key element of the thriller genre. An ordinary man is involved in a race against time to save himself, to defeat his pursuers, and to ensure that good prevails over evil. Like Hannay, modern versions of this character have to lay false tracks, to spot the difference between friend and foe, and to escape from tight situations with limited time to spare.
Master of disguise
1954 Pan edition.
'Then I set to work to dress for the part. I opened the collar of my shirt — it was a vulgar blue-and-white check such as ploughmen wear — and revealed a neck as brown as any tinker's. I rolled up my sleeves, and there was a forearm which might have been a blacksmith's, sunburnt and rough with old scars.
'I got my boots and trouser-legs all white from the dust of the road, and hitched up my trousers, tying them with string below the knee. Then I set to work on my face. With a handful of dust I made a water-mark round my neck… I rubbed a good deal of dirt also into the sunburn of my cheeks. A roadman's eyes would no doubt be a little inflamed, so I contrived to get some dust in both of mine, and by dint of vigorous rubbing produced a bleary effect.'
— Chapter 3: The adventure of the spectacled roadman.
The quote above describes Hannay's transformation into the 'spectacled roadman'. To escape from the unseen enemy, and from the police, Hannay has to adopt a number of disguises. Over the course of the novel, he takes on the role of milkman, fisherman, political candidate, cattle driver, road mender, and fashionable motorist.
Hannay not only adopts the dress and speech of different characters, but also starts to inhabit them. When he takes on the guise of a political candidate, a 'Free Trader', he finds himself having to give a rousing speech on a subject he knows little about:
'I didn't get on so badly when it came to my turn. I simply told them all I could remember about Australia, praying there should be no Australian there — all about its labour party and emigration and universal service. I doubt if I remembered to mention Free Trade, but I said there were no Tories in Australia, only Labour and Liberals. That fetched a cheer, and I woke them up a bit when I started in to tell them the kind of glorious business I thought could be made out of the Empire if we really put our backs into it.'
— Chapter 4: The adventure of the radical candidate.
From novel to film
In 1935, John Buchan sold the film rights to 'The thirty-nine steps' for £800. Alfred Hitchcock was a fan of the author, and he and his collaborators took the original story and created a different kind of masterpiece. The film 'The 39 steps', starring Robert Donat and Madeleine Carroll, was released in 1935 and was a great success.
Hitchcock used the 'man on the run' theme to create a gripping and suspenseful narrative. He revisited the theme of a man running for his life in several later films. In 'Saboteur' (1942), an aircraft worker is wrongly accused of starting a fire which kills his best friend, and is forced to go on the run across the United States. 'North by Northwest' (1959) is a story of mistaken identity and, similarly, a man is pursued across the United States by agents of a mysterious organisation.
An enduring theme
The theme of the hunted man, and the ensuing chase across varied landscapes, has become a key element of spy novels and thrillers. Ian Fleming, creator of James Bond, is said to have been inspired by Buchan's Hannay novels, as were John Le Carré and Graham Greene. This theme is also central to 'Rogue male', a novel written by Geoffrey Household in 1939 which was the basis for the film 'Man hunt' (1941).
Images on this page copyright © 1949 and © 1954 Pan, an imprint of Pan Macmillan.