More items for
'The thirty-nine
steps':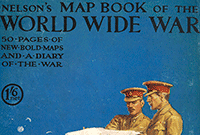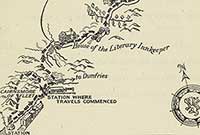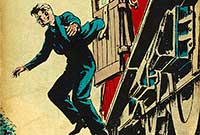 Early life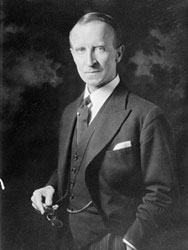 John Buchan was born on 26 August 1875 in Perth, the eldest of five children. His father was a lively Free Church minister and an enthusiast of border ballads and other Scots songs. He was an indulgent parent in contrast to Buchan's mother, Helen Jane Masterton. She epitomised Free Church virtues and was austere, reserved and respectable.
In 1876 the family moved to a small mining town in Fife when his father became the Free Church minister there. As a young boy, Buchan played on the shore of the River Forth and relished his holidays on his relatives' farm at Broughton in the Borders. This is where he first became fascinated with the Border rivers, hills, shallow glens and their people. This was to be the staple of much of his writing.
Buchan and the First World War
Buchan was medically unfit for active service in 1914. Confined to bed in the early months of the war, he began to write, with help, an account of the unfolding events in serialised form. This became Nelson's 'History of the War' (24 volumes), published regularly from February 1915 to July 1919. Each installment was approximately 50,000 words long.
This project, together with his growing reputation as a writer and his support for the war, established his profile as a correspondent for the 'Times' and the 'Daily News'.
By 1916 he was working for General Haig, drafting communiques for the War and Foreign Offices. In this same year he became Second Lieutenant in the Intelligence Corps.
Propaganda work
Working in the War Propaganda Bureau gave Buchan experience in a new field which his natural talent and ability was well suited to.
On 9 February 1917, Buchan was appointed director of a new Department of Information created the very same day by the Cabinet. He now had direct responsibility to the Prime Minister and a salary of £1,000 per year, equivalent to about £77,000 today.
Inter-war fiction
Alongside writing biographies and histories, every year until 1937 Buchan published at least one popular novel, many of which are still in print. These novels could be identified mainly as:
Historical, e.g. 'Midwinter' (1923), and 'The path of a king' (1921)
Scottish, e.g. 'Huntingtower' (1922), and 'Witch wood' (1927)
'Imperial', e.g. 'Prester John' (1897), and 'Greenmantle' (1916).
However, it was Buchan's series of thrilling spy tales that he would become most famous for. The main themes of these novels were centred around the individual getting accidentally caught up in plots that risked national security. They also contained exciting chases, a dislocation between city and country and an element of disguise which added a psychological dimension to the novels.
Political life
In a 1927 by-election, Buchan was elected as the Unionist Party member for the Combined Scottish Universities, a constituency made up of the universities of Glasgow, Aberdeen, Edinburgh and St Andrews. The Unionist Party was the main centre-right political party in Scotland between 1912 and 1965.
In 1935 he was made a peer, Baron Tweedsmuir of Elsfield. In the same year he accepted the appointment of Governor-General of Canada. Having become disillusioned with British politics, the appointment gave Buchan a fresh outlook on public life.
In 1939, Tweedsmuir, as he was now known, superintended the royal tour of Canada which he had worked for since being appointed. It was the first tour by a reigning monarch in a dominion. This event was an important consolidation of the Commonwealth, particularly with war looming on the horizon.
The tour was a great success, but it left Tweedsmuir exhausted. On 6 February 1940 he suffered a cerebral thrombosis while shaving. He died on 11 February in Montreal. Following his funeral service Ottowa, Buchan's ashes were returned to Britain and were buried at the churchyard in Elsfield, his former home in north-east Oxford.