Year of Food and Drink 2015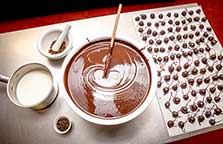 Ingredients for a chocolate recipe
in the Scottish Chocolate Centre
at Legends of Grandtully,
Perthshire. © VisitScotland
Scotland's Year of Food and Drink 2015 continues with February's theme of 'the food of love' to celebrate Valentine's Day.
February is traditionally associated with romance. Historically, many foods have been linked with love:
Chocolate — considered to hold aphrodisiac properties, chocolate has been considered a luxury item for hundreds of years
Oysters — historically known as an aphrodisiac, oysters are still considered a food to be eaten on romantic occasions
Steak — a hearty and nutritious food, meat has been discussed as an aphrodisiac since the 13th century.
Recipe of the month from the Library's collections: Chocolate Cream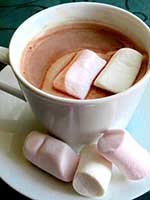 When Spanish conquistadors came across cocoa in Central America in the 1500s it was an unsweetened drink associated with ceremonies, rituals and religious rites, served at room temperature.
The Spanish added sugar, vanilla beans and spices and served it as a hot, sweet drink. This expensive and indulgent drink became known across Europe, consumed in coffee houses or chocolate houses by wealthy gentlemen.
The attribution of aphrodisiac and medicinal properties increased its popularity and chocolate was served in the best houses.
By the 17th century chocolate was used to flavour confectionery and, later, in fashionable desserts. This recipe for a 'Chocolate Cream' is from an anonymous recipe book begun in Dumfries in 1722.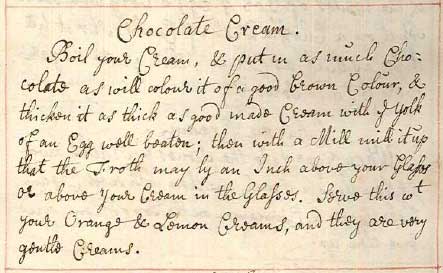 Boil your Cream, & put in as much Chocolate as will colour it of a good brown Colour, & thicken it as thick as good made Cream with ye yolk of an Egg well beaten; then with a mill mill it up that the Froth may ly [sic] an Inch above your Glasses or above your Cream in the Glasses. Serve this wt [sic] your Orange & Lemon Creams, and they are very gentle Creams.
This liquid flavoured cream was served in individual glasses. A century later many creams were poured set in moulds with additional egg yolks and gelatine.
The 19th century also saw the introduction of commercially produced bars of chocolate.