Year of Food and Drink 2015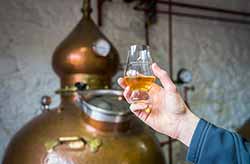 Strathearn Gin being made at the
Strathearn Distillery in Perthshire
© VisitScotland.
March's theme of brewing and distilling continues the Year of Food and Drink Scotland 2015.
Brewing and distilling has a long history in Scotland. The earliest documented record of whisky distilling in Scotland dates back to 1494, and the Edinburgh Society of Brewers was established in 1596. Whisky and beer have therefore been a staple part of the Scottish lifestyle and economy for hundreds of years, with many long-established breweries and distilleries still producing beer and spirits today.
Recipe of the month from the Library's collections: Mead
An ancient honey-based alcoholic drink, mead was often flavoured with fruits, spices, hops or grain. Compared with water, mead was safe and was widely drunk. In addition, the drink was believed to have healing powers and fertility influences which result in the origin of the term 'honeymoon'.
Historians are unsure when and where mead was first produced, but it could date back thousands of years before wine or beer. Even when wine became popular in Europe, mead remained prevalent in colder countries like Scotland where it was difficult to grow grapes.
Today mead is seeing a revival in popularity and is being produced by forward-thinking brewers in the wake of the craft beer movement. Mead can be enjoyed as a refreshing sweet drink or as an accompaniment to cheese or meat.
This month's recipe is taken from an anonymous recipe book from the late 17th century.
To make small mead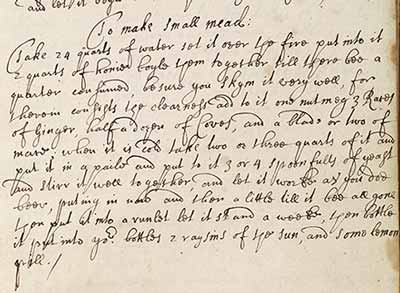 Take 24 quarts [see note] of water set it over the fire put into it 2 quarts of honie boyle them together till there bee a quarter consumed, be sure you skym it very well, for therein consists the clearness add to it one nutmeg 3 Races of Ginger, half a dozen of C[l]oves, and a blade or two of mace, when it is cold take two or three quarts of it and put it in a paile and put to it 3 or 4 spoonfulls of yeast and stirr it well together, and let it worke as you doe beer, puting in now and then a little till it bee all gone then put it into a runlet let it stand a weeke, then bottle it put into yo[u]r bottles 2 raysins of the sun, and some lemon peill.
Note: The metric equivalent of a quart is about 1.9 litres.