Year of Food and Drink 2015

Scottish prawn tails, langoustines.
Champany Inn, Linlithgow.
© VisitScotland
October's theme of sustainable shore continues the Year of Food and Drink Scotland 2015.
Fishing has been important in Scotland for hundreds of years, and remains so today. Many historical Scottish recipes feature seafood from the country's shores and rivers.
Recipe of the month from the Library's collections: Kedgeree
Kedgeree is a dish associated with hearty Scottish breakfasts. Today, the classic combination of boiled rice, curried fish and hard boiled eggs is just as likely to be eaten as a delicious lunch or light supper dish.
Our kedgeree recipe is taken from Stephana Malcolm's recipe book, begun in 1790.
Although Stephana spent most of her life in rural Dumfriess-shire, her family travelled widely. Stephana's recipe books include many novelties including several Indian dishes. As well as kedgeree, there are recipes for mulligatawny soup, Indian pickle and curry powder.
While we put curry powder in our kedgeree, like most early versions, Stephana's dish is spiced with cayenne pepper. Her fish and rice were freshly prepared, but by Victorian times, thrifty housewives often made their kedgeree from leftover ingredients.
'Kedgeree — a breakfast dish'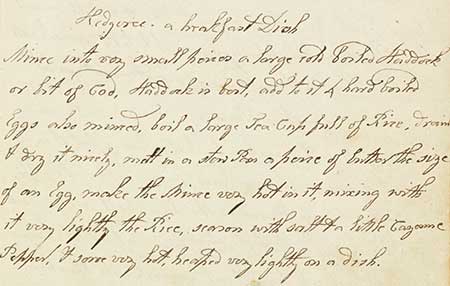 Mince into very small pieces a large cold boiled Haddock or bit of cod, Haddock is best, add to it 4 hard boiled Eggs also minced, boil a large Tea Cup full of Rice, drain & dry it nicely, melt in a stew Pan a piece of butter the size of an Egg, make the Mince very hot in it, mixing with it very lightly the Rice, season with salt and a little Cayenne Pepper, & serve very hot, heaped very lightly on a dish.