The National Library of Scotland's United States collections cover a wide range of topics, from the Civil War to the Cold War, Dixie to Dadaism, and Modernism to Motown.
Our American collections are the largest of the international collections, with material dating from the 17th century to the present day. Within the collections are rare books, manuscripts, periodicals, maps, microforms, and numerous recent publications.
On this page:
On next page:
On last page:
Subjects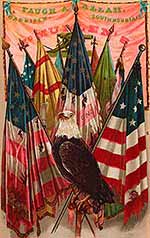 In these collections you will find a range of topics represented, spanning centuries of history and a wide variety of disciplines. Among many others, subjects covered include:
Literature
Arts and culture
Philosophy
Film
History of the book
Libraries and librarianship
Gender studies.
Scotland and the USA
Collecting is especially focused on material about Scotland and the Scots, with relevance to Scotland, or written by important Scots. The United States collections contain material about:
Scottish culture in the USA
Scottish emigration to North America.
Highlights
The United States collections contain many treasures, including:
'Official Letters to the Honorable American Congress', 1795: Signed by George Washington, first President of the United States
Henrietta Liston's North American journals, 1796-1801: The wife of British diplomat Robert Liston shares her observations on the newly-independent United States
Advertisement for sale of sugar plantation and slaves, 1852: Poster advertising a Louisiana plantation with 129 slaves
Union soldier's American Civil War diary, 1862: The pocket diary of an unknown private
Photograph of a slave's scourged back, 1864: Abolitionist propaganda image of an escaped slave
'The Yosemite': A first edition of John Muir's travel guide-cum-autobiography, published in New York in 1912 [Library shelfmark: H2.78.861]
'Renascence and other poems': A first edition of Edna St. Vincent Millay's poetry, published in New York in 1917 [Library shelfmark: H.S.450]
'Gone with the wind': A first edition of the novel published in New York in 1936, signed by author Margaret Mitchell [Library shelfmark: H.S.705].
Contact us
Email Dora Petherbridge, United States and Commonwealth Collections Curator, with enquiries, suggestions for acquisition, and if you wish to donate material.
Ask a question online if you have an enquiry about manuscripts relating to the United States.
Additional