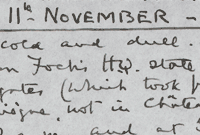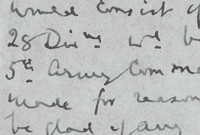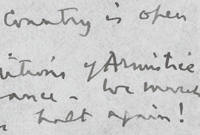 Pictured here is the entry in Field Marshal Sir Douglas Haig's diary for the day the First World War ended.
As usual, Haig begins his diary entry with a comment on the weather conditions.
When the Armistice came into effect at 11am on 11 November, Haig held a meeting with his Army commanders at Cambrai.
One of the issues he raised with them was the importance of keeping troops occupied once hostilities had ceased.
He also writes about meeting with Prince Fushimi of Japan and with the Prince of Wales.
A diary entry every day
Haig wrote a daily diary entry throughout the Great War, starting in 1914 with the early days of the British Expeditionary Force.
Haig continued to write the diary until his return from France in April 1919, when he was appointed Commander-in-Chief of the Home Forces.
Accounts of battles
He was Commander-in-Chief of the British Army on the Western Front for the last three years of the war.
Written mainly from the battlefront, his diary includes his account of key battles, such as the Somme and Passchendaele.
The Haig Papers
The diary is among the Haig Papers in the National Library of Scotland's military and naval papers collection.
Read more about Haig's diary.
You can also read about Field Marshall Haig ('The general') in our 'Experiences of the Great War' website.