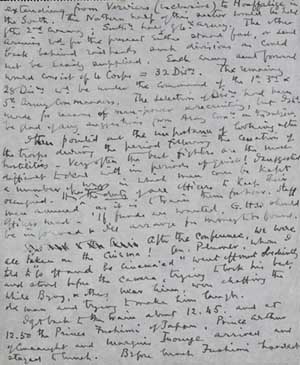 Second page of Field Marshal Haig's diary entry for Monday 11 November 1918.
extending from Verviers (exclusive) to Houffalize in the South. The Northern half of this sector would be held by the 2nd army; South[er]n half by 4th army. The other armies w[oul]d for the present either stand fast, or send back behind railheads such divisions as could not be easily supplied. Each army sent forward would consist of 4 Corps = 32 Div[isio]ns. The remaining 28 Div[isio]ns w[oul]d be under the command of the 1st, 3rd, & 5th Army Commanders. The selection of Div[isio]ns had been made for reasons of man-power & recruiting, but I sh[oul]d be glad of any suggestions from Army Com[mande]rs in the subject.
I then pointed out the importance of looking after the troops during the period following the cessation of hostilities – Very often the best fighters are the most difficult to deal with in periods of quiet! I suggested a number of ways in which men can be kept occupied. It is [as much] the duty of all officers to kept their men amused, as it is to train them for war. Staff officers must – If funds are wanted, G.H.Q. should be informed & I'll arrange for money to be found.
After the Conference, we were all taken on the Cinema! Gen. Plumer, whom I told to 'go off and be cinema'ed' went off most obediently and stood before the camera, trying to look his best, while Byng, & others near him were chaffing the old man and trying to make him laugh.
I got back to the train about 12.45 and at 12.50 the Prince Fushimi of Japan, Prince Arthur of Connaught and Marquiss Inouye arrived and stayed to lunch. Before lunch Fushimi handed