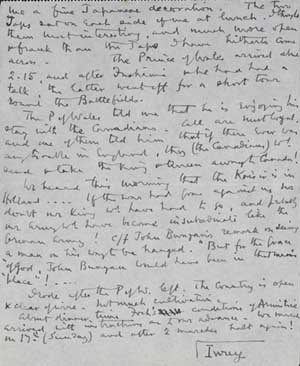 Third page of Field Marshal Haig's diary entry for Monday 11 November 1918.
me a fine Japanese decoration. The two
Japs sat on each side of me at lunch. I thought
them most interesting, and much more open
& frank than the Japs I have hitherto come
across. The Prince of Wales arrived about
2.15, and after Fushimi & he had had a
talk, the latter went off for a short tour
round the Battlefields.
The P[rince] of Wales told me that he is enjoying his
stay with the Canadians. All are most loyal,
and one of them told him that if there ever was
any trouble in England, they (the Canadians) w[oul]d
send & take the King & Queen away to Canada!
We heard this morning that the Kaiser is in
Holland… If the war had gone against us no
doubt our King w[oul]d have had to go, and probably
our Army w[oul]d have become insubordinate like the
German Army! c/f John Bunyan's remark on seeing
a man on his way to be hanged. "But for the grace
of God, John Bunyan would have been in that man's
place"!...
I rode after the P[rince] of W[ales] left. The country is open
& clear of wire. Not much cultivation.
About dinner time Foch's conditions of Armistice
arrived with instructions as to our advance. We march
on 17th (Sunday) and after 2 marches halt again!
             Iwuy