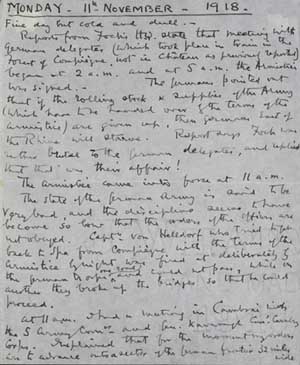 First page of Field Marshal Haig's diary entry for Monday 11 November 1918.
Haig wrote:
Fine day but cold and dull. –
'Reports from Foch's H.Q. state that meeting with
German delegates (which took place in train in the
Forest of Compiègne, not in Château as previously reported)
began at 2 a.m. and at 5 a.m. the Armistice
was signed.  The Germans pointed out
that if the rolling stock & supplies of the Army
(which have to be handed over by the terms of the
Armistice) are given up, then Germans East of
the Rhine will starve. Report says Foch was
rather brutal to the German delegates, and replied
that that was their affair!
The Armistice came into force at 11 a.m.
'The state of the German Army is said to be
very bad, and the discipline seems to have
become so low that the orders of the officers are
not obeyed. Capt[ai]n von Helldorf who tried to get
back to Spa from Compiègne with the terms of the
Armistice by night was fired at deliberately by
the German troops [ ] and could not pass, while on
another they broke up the bridges so that he could
proceed.
At 11 a.m. I had a meeting in Cambrai with
the 5 Army Com[mande]rs' and Gen. Kavanagh Com[mandin]g Cavalry
Corps. I explained that for the moment my orders
are to advance onto a sector of the German frontier 32 miles wide