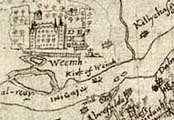 Around 1583-1596 Timothy Pont, a young graduate of St Andrews University, undertook his remarkable task of mapping Scotland - the first person to do so in any detail, as far as we know. The reasons for his initiative are still obscure, but 77 manuscript maps attributed to Pont have survived, entering the Advocates' Library around 1723. These manuscripts were the basis for the maps of Scotland published in Amsterdam in 1654 in volume 5 of Blaeu's splendid Atlas Novus.
The collection of Pont manuscript maps in the National Library of Scotland is one of the finest surviving collections of its kind. The maps give a unique insight into the history, geography, landscape and architecture of 16th century Scotland.
Project Pont 1996-2001
The quatercentenary of the only dated manuscript map (Clydesdale, 1596) provided the special impetus for inaugurating Project Pont in October 1996. In the same year the maps were also digitally scanned which made their minute details easier to interpret and a wider distribution possible.
The aims of the five-year project were:
to stimulate further multi-disciplinary research on Timothy Pont, his maps, and the context of his work
to establish a record of data relating to Pont's maps and life
to disseminate work on Project Pont
to liaise with other researchers
The Steering Committee included representatives of the Library and scholars with expertise in various aspects of the project. The project came to a close in 2001, with the launch of the Pont Maps website, a travelling exhibition, 'Mapping the Realm', and the publication of a book, 'The Nation Survey'd'. More on Project Pont
Although Project Pont has come to an end, there is still considerable interest in the maps, and the Library continues to co-ordinate enquiries and research. A new initiative, the Scottish Maps Forum, focusing on early maps of Scotland, was launched in 2002.
Further information
If you are researching any aspect of Pont's life, work or maps, or would like further information, please ask a question online, phone or write to us.
Map Collections (Project Pont)
National Library of Scotland
159 Causewayside
Edinburgh
EH9 1PH
Scotland, UK
Tel: +44(0)131 623 4660