Background
Under the Legal Deposit Libraries (Non-Print Works) Regulations 2013, the legal deposit libraries collaborate to receive, make available and preserve digital publications.
From 2013 libraries focused on ejournals, ebooks, and websites. From 2016 this work extended to cover other media, including digital maps.
Voluntary deposit of Ordnance Survey mapping
On an annual basis since 1998, the Ordnance Survey voluntarily deposited their detailed digital maps of the United Kingdom. From 2004, Ordnance Survey Northern Ireland also annually deposited their detailed digital maps for Northern Ireland.
These annual snapshots are archived by the British Library, and made available to readers in every legal deposit library. These snapshots will continue in the future, supplemented by snapshots of other digital map publications.
Reading room map viewer
You can view digital mapping received under non-print legal deposit using our dedicated map viewer in Library reading rooms.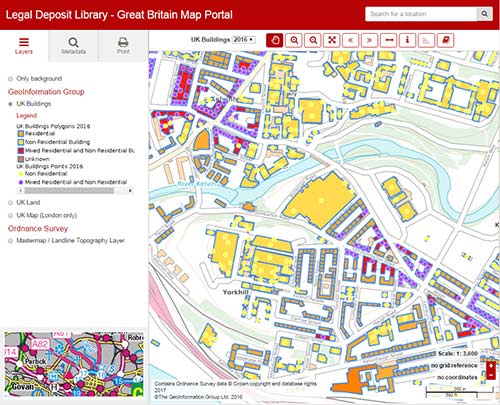 GeoInformation Group's UK buildings dataset
for Kelvin Hall.
Our map viewer is available within the Maps Reading Room, the General Reading Room, and at Kelvin Hall.
Once you choose a map dataset for viewing, you can then view the mapping for specific places in two main ways:
Using a zoomable map
Using a gazetteer of placenames, addresses or postcodes/grid references.
You can pan and zoom to view a map on-screen. The maps have been customised using default styles to look clear, and each has a legend or key, where appropriate, to explain the colours and symbols.
Copying for private, non-commercial purposes
A4 size extracts of maps, on an A3 sheet of paper, are permitted for non-commercial research or private study, or for certain other limited purposes as defined by the Copyright, Designs and Patents Act 1988.
Electronic copies are not permitted and printing must be agreed with Library staff.