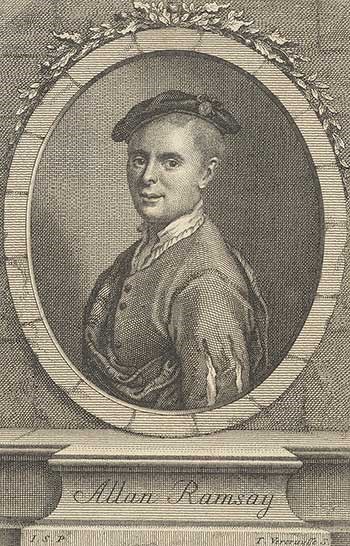 Portrait of Allan Ramsay in the frontispiece of 'Poems', 1721 [Library reference: MS.9749].
Born in 1684 in Leadhills, Lanarkshire, Allan Ramsay was brought up by his mother and her second husband, following the early death of his father John Ramsay in 1685.
His mother died when he was in his late teens, and after her death he moved to Edinburgh, to train as an apprentice wigmaker. After opening his own business in the city, he was made a burgess of Edinburgh in 1710.
Writing the Enlightenment
Allan Ramsay was one of the original members of the Easy Club in Edinburgh. This club encouraged the type of discussion and creativity which characterised the Scottish Enlightenment.
Ramsay's poems were first published in broadsides, for example, his 'Elegy on Lucky Wood' believed to have been written in 1718. He went on to publish volumes of poetry, collections of Scots songs and poems and his best-known work The Gentle Shepherd' in 1725. Read more about 'The Gentle Shepherd, 1725.
Literary and cultural innovator
As well as his written works, Ramsay was an advocate for culture and literature in various forms. He established the first circulating library in Britain, in 1725. In 1736 he opened a theatre in Currubber's Close, Edinburgh, which was opposed by the Presbyterian establishment. Despite Ramsay penning an open letter defending the stage, his theatre closed in 1739. Read more about Ramsay's defence of the theatre.
Allan Ramsay married Christian Ross in 1712 and they had several children. His eldest son, also named Allan Ramsay (1713-1784) became a successful artist having travelled in Italy to learn from Italian painters. His travels were supported and encouraged by his father.