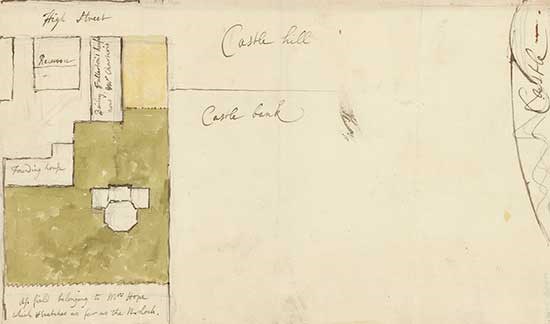 'Design of Goose-pie house', around 1733 [Library reference: MS.9994 ff.101].
After he was married, Allan Ramsay became a father to several children.
His eldest son, also called Allan Ramsay was born in 1713 and went on to become one of Scotland's most notable painters.
Around 1733 Ramsay the poet purchased land on Edinburgh's Castlehill and set about the design and construction of a new family home.
Owing to the octagonal shape of the building it became known as 'Goose-pie' house, a reference to it having a similar shape to a pie tin.
Ramsay's son took ownership of the property in 1741, choosing to stay in the family home when in Edinburgh rather than move to the fashionable New Town. He later extended the property, adding houses to the east of the main building, creating Ramsay Gardens.