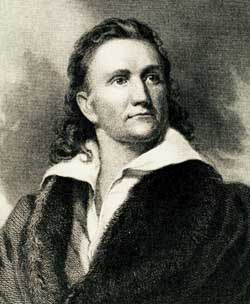 John James Audubon
Influential men encountered by John James Audubon in Edinburgh in the 1820s and 1830s. From the National Library of Scotland's exhibition 'Birds of a Feather: Audubon's Adventures in Edinburgh', July-October 2006.
John James Audubon (1785-1851) visited Edinburgh five times between 1826 and 1839. On his first trip, in 1826, he brought with him 250 of his bird paintings. These would form the basis of his now-famous book, 'Birds of America'.
Influential figures
In Edinburgh the American wildlife artist was fortunate to meet some of the key figures of the time in science and literature. Seven brilliant men in particular helped Audubon make his dream of publishing 'Birds of America' a reality.

William Home
Lizars
William Home Lizars (1788-1859)
A talented artist and a superb engraver. He played a key role in the production of 'Birds of America'. He was the first man to consider seriously engraving and publishing the bird paintings.

Robert
Jameson
Robert Jameson (1774-1854)
Keeper of Edinburgh University's natural history museum. He gave Audubon access to the bird specimens in the collections. Audubon used these when writing 'Ornithological Biography', the book to accompany the bird paintings.

Walter
Scott
Sir Walter Scott (1771-1832)
One of the main reasons that Audubon visited Edinburgh. He was desperate to meet the world-famous author and greatest living Scot. Their first meeting took place in January 1827.

George
Combe
George Combe (1788-1858)
An Edinburgh-born lawyer who took up the pseudo-science of phrenology. Audubon was also enthusiastic about the subject. Phrenologists believed that the shape of a person's skull revealed their intellectual abilities and character.

William
MacGillivray
William MacGillivray (1796-1852)
A keen ornithologist who had worked with Robert Jameson at Edinburgh University's natural history museum. He worked with Audubon on 'Ornithological Biography'. View the MacGillivray Art Collection at the National History Museum.

Robert
Knox
Robert Knox (1791-1862)
A brilliant anatomist who gave lectures and performed dissections to packed audiences. Audubon visited Knox on his first day in Edinburgh and later attended one of Knox's lectures. Knox's career was eventually ruined by the Burke and Hare grave-robbing scandal.

Basil
Hall
Captain Basil Hall (1788-1844)
A former navy commander, who became a prominent member of Edinburgh society in the 1820s. He acted as Audubon's social manager, introducing him to the city's important figures.
Illustrations © Iain McIntosh