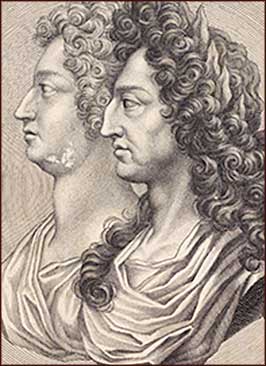 William and Mary, who reigned jointly as monarch after the rebellion of 1688.

Mary was the eldest daughter of James VII by his first wife.
On the instruction of her uncle Charles II, both Mary and her sister Anne were raised Protestant to protect them from the unpopularity of their father's Catholicism.
Mary married her cousin William, Prince of Orange, in 1677, but the marriage produced no children.
Stuart family tensions
William's mother was sister to both Charles II and James VII.
Despite the close Stuart connections there was often tension between William and his uncles.
The limitation of French power was the driving force in William's life and he began to see that the divisions caused by James's policies would prevent England from acting as a counterweight to French ambition.
William's opposition
From 1687 tension between James and William increased.
Politicians began to plot with William's agents, who made clear the Prince's opposition to James's attempts to overturn anti-Catholic legislation without the approval of Parliament.
Invasion and coronation
Following William's successful invasion in 1688, legitimised by an invitation from seven English lords, he acceded to the throne with Mary in a unique coronation in 1689 that recognised a dual monarchy.
A foreign king was not a popular choice, but Mary provided continuity of the Stuart line.
Declaration of Rights
William and Mary accepted the Declaration of Rights, which limited the sovereigns' power and allowed Parliament more control than with previous monarchs.
Mary died just five years after their reign began, and William ruled alone until he died in 1702. As William and Mary had no children, Mary's younger sister, Anne, acceded to the throne.