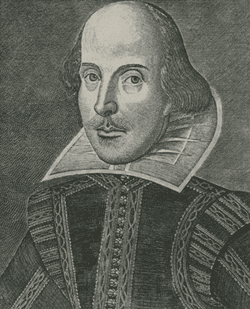 William Shakespeare.
William Shakespeare (1564-1616) is held generally to be the greatest playwright and greatest writer in the English language.
Millions of people across the centuries have seen and read his plays.
Phrases from his works have become part of every day language — 'star-crossed lovers' and ' the mind's eye, for instance.
Globe Theatre
Born in Stratford-upon-Avon, he was writing and acting in plays in London by 1592. His comedies, histories and tragedies delighted ordinary playgoers and the royal courts of Elizabeth 1 and James VI and I.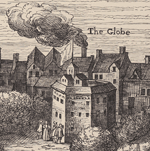 He invested in the Globe Theatre, which was home to his own acting company.
Gradually Shakespeare stopped writing plays. It's thought he retired to Stratford, where his wife and children had remained during his time in London and where he died in 1616.
Quartos
Early editions of Shakespeare's plays are known as 'quartos', after the term used to describe the format in which they were published.
A quarto is made up of gatherings of four leaves of paper, produced by folding a large sheet twice.
These small cheap books were sold at the many bookstalls in the churchyard of St Paul's Cathedral.
The First Folio
'Macbeth' and 'Twelfth night' are two of the greatest and best-loved Shakespeare plays. These would be lost to us without what is now called the First Folio — the first collected edition of Shakespeare's plays.
'Folio', like 'quarto', describes the format of the book. Folios were larger than quartos, and generally used for more important books.
This collection of 36 plays was published by his actor friends seven years after his death. The playwright himself does not seem to have taken any great steps to ensure that his plays were preserved in print.