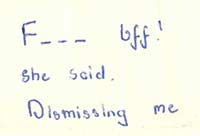 Donated to the Library by Jessie Kesson's daughter in 2016, Kesson's literary archive offers a unique insight into her inner thoughts through her correspondence, writing drafts and other paperwork.
Correspondence in the archive shows Kesson's self-deprecating humour and her distinctive voice, through letters to friends, family and other contacts.
Her letters and unpublished writings are a window into how she felt about her transformation from difficult beginnings to renowned and celebrated writer.
Items from Jessie Kesson's literary archive were on display in 'Jessie Kesson: "The sma perfect"', at the Library from 22 September until 25 November 2016.