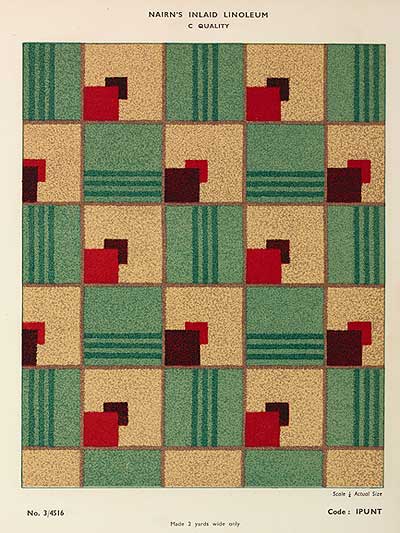 Page from Nairn's linoleum catalogue, 1955.
The capital of the Lino world is Kirkcaldy in Fife, and the royal house is Nairn.
In 1847 Michael Nairn started building his floorcloth factory — 'Nairn's Folly', as scoffing sceptics called it.
In 1877, he started producing linoleum — invented elsewhere by a Yorkshireman who let his patent lapse — and Kirkcaldy acquired its 'queer-like' smell of linseed oil. The family firm expanded into Europe and America and dominated the market.
The Nairn' brochure for the 1924 British Empire Exhibition promoted the flooring as being hygienic, stylish, and suitable for every room in the house — as well as the decks of warships.
Cheaper carpets in the 1950s and changes in taste stripped much of the world of classic lino, but there was still a designer option comeback on the distant horizon — Marmoleum.
An ABC of Scotland
Linloeum was just one of the 'L' topics in our alphabetical exhibition celebrating some of the outstanding achievements by Scotland and Scots.
'Wha's like us?' ran from 13 December 2013 to 18 May 2014.