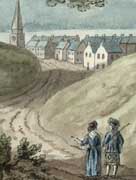 Local history sources can provide you with geographical, historical and social information on the areas in which your ancestors lived.
Collections at the National Library of Scotland include a wide variety of relevant material.
Use Library Search to find details of local history publications we have. You can search either by title or keyword.
Statistical Accounts of Scotland
The Statistical Accounts of Scotland are an invaluable source for research on Scottish life in the 18th to 21st centuries. For each parish or town it covers subjects as diverse as:
Population
Industry
Geography
Transport
Culture.
You can access the Statistical Accounts of Scotland online.
If you visit us in person you can also use:
The Statistical Account of Scotland 1791-1799', edited by Sir John Sinclair. 20 volumes. (Wakefield: EP Publishing, 1973-83)
'The New Statistical Account of Scotland'. 15 volumes. (Edinburgh: William Blackwood & Sons, 1845)
'The Third Statistical Account of Scotland'. 31 volumes. (Edinburgh: Oliver & Boyd; Glasgow: Collins; Edinburgh: Scottish Academic Press, 1951-1992).
You need a library card to use resources in the reading rooms at our George IV Bridge building in Edinburgh.
Additional