About Sonali Misra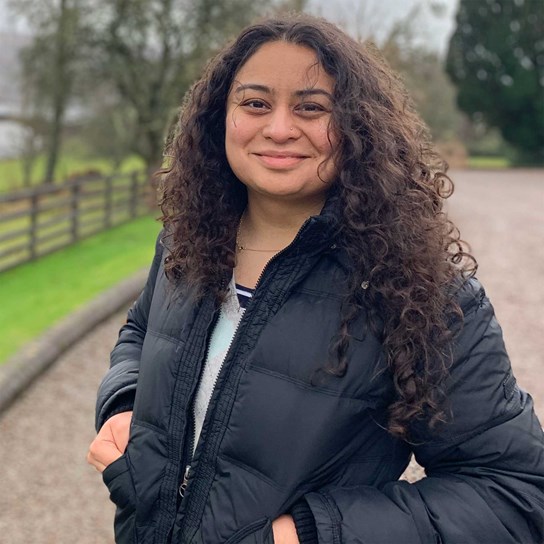 Sonali Misra is an Indian author and PhD researcher in Publishing Studies.
Her debut nonfiction, '21 Fantastic Failures', was released in 2020, and her short stories and essays have appeared in British and Indian anthologies. She's the Co-founder of the Selkie Publications CIC and Co-chair of the Society of Young Publishers Scotland.
Find out more on Sonali's website.
Photo © Alka Misra.
Sonali's comments
'I chose nonfiction because, after all the twists 2020 took, I felt narrating my individual story would make for as serpentine a reading as any fictional work. I enjoy playing with forms, nudging the rules, so my nonfiction piece took on a sci-fi time-travelling shape in a letter to my Past Self. This has been the hardest and most honest work I've produced. I won't say I enjoyed the process or found any answers along the way, but it did provide me with an outlet. And though this letter is addressed to who I was on 1 January 2020, it's ultimately a love letter to my mother.'
Nadine Aisha Jassat's comments
Poet, writer and creative practitioner Nadine Aisha Jassat led the Fresh Ink initiative. She writes about Sonali's commission:
Sonali Misra's 'Dear Sonali' had me hooked from the first line to the last. She writes about her experience as a debut author in 2020, something that felt so important to capture in the archive, but also about her year as a daughter, as someone newly in love, as someone whose heart finds joy in two countries but who is in lockdown in one. It was a reminder of how good writing — written with heart, and story — can pull readers in and make the shared emotion of the author resonate with that of the reader. It is not often that work makes me cry, and yet Sonali's did, as she writes back to herself of early 2020, from where she sits now.