About Suzy Kelly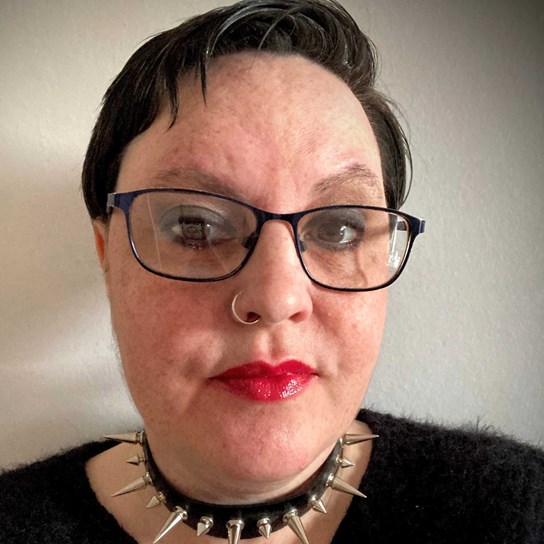 Suzy A Kelly holds an MLitt in Creative Writing (Distinction) from the University of Glasgow. Their work is published in 'Gutter', 'Northwords Now', and 'New Writing Scotland'.
Suzy is currently a postgraduate research student and is working on their debut historical crime novel, 'Vile Deeds of the Amazing Crab Girl'.
Photo © Suzy A Kelly.
Suzy's comments
'As a writer with long-term health difficulties, I was already housebound when Covid-19 spread across Earth in 2020. While some struggled with their newfound restrictions, my day-to-day life steamed ahead online, safe within a cosy former manse by the seaside. But heartache, fear and loss touched everyone. While others grew exasperated by their physical and social limitations, I was increasingly resentful, forgetting that I took 12 years to adjust to living this smaller kind of life. This story explores my social dislocation and how Zoom helped me reconnect with the world.
'RIP Mission Specialist Wolfe, the Goodest of Good Boys.'
Nadine Aisha Jassat's comments
Poet, writer and creative practitioner Nadine Aisha Jassat led the Fresh Ink initiative. She writes about Suzy's commission:
'Suzy Kelly's "A Most Peculiar Way" offers their story of the pandemic through space travel meets zoom rooms meets the power of everyday moments and human connection and raw emotion at its core. There's a smart humour to Suzy's tone, and a sense of being drawn into space as a way to draw readers towards the truth of Suzy's world. Suzy's use of astronauts and space imagery, alongside sharp-witted dialogue and observation, is powerfully clever — and the emotions at the core of the piece powerfully moving.'