Morality and religion
More items for
forgotten
women writers: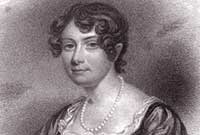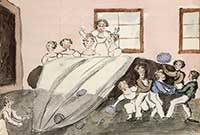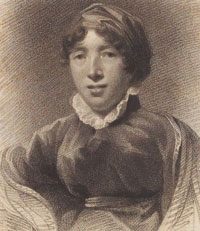 Elizabeth Hamilton.
Elizabeth Hamilton was born in Belfast to an Irish mother and a Scottish father. There is some confusion about the exact date of her birth, but it is now believed to be 25 July 1756.
Her father died while she was still a baby, and Elizabeth was sent to live with her aunt and uncle who owned a farm near Stirling.
She attended a day school from the age of eight, but her formal education finished in her early teens.
Always a curious and eager reader, she continued to seek out serious books, developing the beginnings of her lifelong interest in moral and educational philosophy. She read all the Scottish thinkers of her day, including Lord Kames, Thomas Reid, and Dugald Stewart.
Her first biographer said that 'like many solitary thinkers, (she) was irresistibly compelled to become a writer'.
Elizabeth Hamilton became a well-known and respected author. Sir Henry Raeburn, one of the most important Scottish artists of the day, painted a portrait of Elizabeth Hamilton at the height of her fame, a few years after her best-selling novel 'The Cottagers of Glenburnie' was published. The engraving on this page was based on that portrait.
'The cottagers of Glenburnie'
The novel 'The cottagers of Glenburnie' tells the story of a retired servant, Mrs Mason, who seeks to improve the lives and morals of her distant relatives, the MacClartys, in the Scottish Highlands.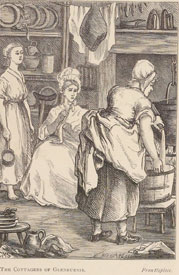 Sketch from chapter
eight.
This results in a number of comic moments, but the novel also had the more serious aim of highlighting the need for improvement in the Highlands at this time.
The illustration on the left shows a scene from chapter eight in the novel — 'Family sketches' — where Mrs Mason is talking to Mrs MacClarty's two teenage daughters, Meg and Jean. Jean decides not to go to school that day as she has not done her homework and 'cou'd na be fashed' (couldn't be bothered). Her mother does nothing to persuade her, much to Mrs Mason's disbelief. Mrs Mason is also alarmed by the general lack of cleanliness and hygiene at Mrs MacClarty's.
Repackaging for different audiences
'The cottagers of Glenburnie' was not just intended for the well-educated middle-class reader. It was published in a number of different editions to appeal to a wider audience.
The illustration 'Sketch from chapter eight' comes from a late nineteenth century edition of the novel, which was published in a series called 'The girl's own library', which repackaged the book for teenage girls. In Hamilton's lifetime special cheap editions were published. They were aimed at poor people who lived in cottages like the characters in the book, and would not have been able to afford to buy a proper novel.
Can you think of any examples of contemporary novels which have been repackaged for different audiences?
In recent years, some popular children's fiction, such as the Harry Potter series by J K Rowling and the 'His dark materials' trilogy by Philip Pullman, have been repackaged for an adult market using different cover designs and illustrations.
There are also examples of adult bestsellers, like 'Fast food nation' by Eric Schlosser being issued in young-reader versions. 'Pride and Prejudice' by Jane Austen has also recently been published in a new edition by Harper Teen which uses cover imagery reminiscent of the 'Twilight' books and designed to appeal to a younger female audience.
It is also common for publishers to change the cover design of books for different countries. Some illustrations and titles that work well in one place will not appeal to buyers and readers in another location.
In 2013, 'The bell jar' by Sylvia Plath was re-published with a 'chick lit' cover showing an attractive woman applying her make-up.
This choice of cover caused controversy amongst readers and critics, many of whom thought that the new edition trivialised the content of the novel.
Depictions of Scotland
All of the writers featured in this resource lived in Scotland for much of their lives.
Although they were not attempting to create a distinctively Scottish type of literature, they wrote about what they knew. The Scottish landscape, culture, and people are reflected in their works.
Elizabeth Hamilton, like some of the other writers wanted to make a point by comparing parts of Scotland with regions south of the border.
Hamilton had seen improvements in England which she hoped could be introduced to the Highlands.
Others, such as Mary Brunton and Susan Ferrier, wrote about what it was like to see Scotland through the eyes of people travelling there for the first time.
Their novels were all first published in Edinburgh, which was an important publishing centre.
Discussion points
Look at the different children and adult editions of 'Harry Potter' by J K Rowling and the 'His dark materials' trilogy by Philip Pullman. What are the differences in design and presentation? Consider the choice of illustrations, font, colours, and the way the blurb is written to appeal to each audience
Elizabeth Hamilton aimed to use humour in 'The cottagers of Glenburnie' to win people over to her ideas about how Scotland could be improved. How do people use humour today to make serious points — in novels, television programmes, or advertisements, for instance? Does it work,or do you think it is still 'preachy'?
How do you think you would feel if you were a cottager and read Elizabeth Hamilton's description of the MacClarty family home and how it could be improved? Would you respond like the MacClartys with 'I cou'd na be fashed' or would you think about adopting Hamilton's suggestions?
Novels by Elizabeth Hamilton
Read this book if you enjoy George Elliot, Elizabeth Gaskell or tales of rural life and culture clashes.
'The cottagers of Glenburnie'
After years working as housekeeper in an English country house, Mrs Mason returns to Scotland to live with her cousin Mrs MacClarty in the village of Glenburnie. Mary Mason is sensible and efficient, her cousin exactly the opposite.
Will Mrs Mason win the villagers over to her new-fangled ways of doing things, or will Mrs MacClarty triumph with her 'I cou'd na be fashed'? This novel's lively picture of rural Scottish life was praised by Sir Walter Scott himself.
'The cottagers of Glenburnie' first edition of 1808
Recent published editions
'The cottagers of Glenburnie: and other educational writing', edited by Pam Perkins (Glasgow: Association of Scottish Literary Studies, 2010).