Publishing anonymously
More items for
forgotten
women writers: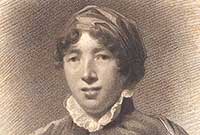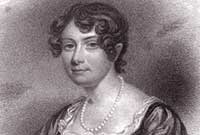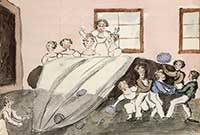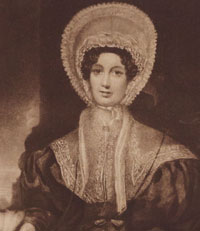 Susan Ferrier.
Susan Ferrier came from a family which was well-known in Edinburgh 'society' — the few hundred people who formed the social elite of the time. Some of her fictional characters were based on real and recognisable people of her acquaintance. It was perhaps sensible to keep her authorship a closely guarded secret!
Susan's Ferrier's identity as the author of her novels became more widely known, or guessed, during her lifetime, but she always denied it in public:
'I will never avow myself … I could not bear the fuss of authorism!' ('Memoir', page 178)
'Marriage'
Susan Ferrier's first novel 'Marriage' was published in 1818. It tells the story of an English heiress, Lady Juliana, who elopes with an impoverished Scot, Henry Douglas, and has to adjust to living in a run-down castle in the Highlands.
Women's role in publishing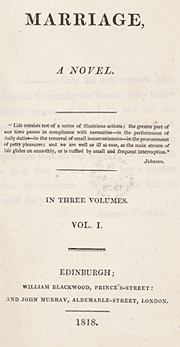 'Marriage' first edition
title page.
Like Jane Austen and fellow Scottish author Mary Brunton, Susan Ferrier chose to publish all of her books anonymously.
There are several possible reasons for this. Firstly, at this time it was not considered appropriate for women to have a public role in their own right.
It was more acceptable for a woman to play a supportive role to the men in her family. For this reason, Susan Ferrier may not have wanted to draw attention to herself as a writer.
Negotiating sales
It was also not usual for ladies to engage in business, even the business of seeing their books into print.
At this time, it was common for a publisher to buy the copyright of a novel outright, rather than agree to pay royalties. But Susan Ferrier's publisher did not negotiate the copyright sales with Susan herself. Instead he agreed the price with her brother John.
These sales show how successful Ferrier's novels were in the marketplace. When she was an unknown author, Blackwoods offered £150 for 'Marriage'. By the time  'The inheritance' was being published, the price had risen to £1,000.
Scots language
Like the other authors, Susan Ferrier wanted to create a believable portrait of the world she knew. Scots language was included in the novel to reflect and describe the language that Ferrier heard around her. She was not trying to make a particular political or moral point by writing in Scots as well as in English.
During the 18th-century, a growing number of writers and intellectuals had tried to banish 'scotticisms' — distinctively Scottish words and phrases — from the spoken and written language. At the same time, Scots was considered an appropriate language for poetry, song, proverbs, and storytelling, which all originated in the oral tradition. Find out more about these debates in the 'Northern Lights: The Scottish Enlightenment' website.
One of Susan Ferrier's characters, Mrs Macshake, is from the upper classes, but the text implies that she has not received any formal education. Her language reflects her upbringing in the Highlands at a time when she would not have been expected to learn 'standard English'.
Discussion points
Can you think of examples of contemporary authors who either publish anonymously or use pseudonyms? Why might they choose to do this?
Read the extract from chapter 38 of 'Marriage', which features Mrs Macshake. Which Scots words do you recognise in the text? Which ones are more unfamiliar? Try to find out the meanings of the words that you don't know.
Compare this use of Scots language with that in the work of other authors, for example Walter Scott and modern and contemporary writers such as Lewis Grassic Gibbon, Irvine Welsh, and Agnes Owens.
How is Scots used to add local colour or to denote particular characters? Do English and Scots have different functions in these novels?
Novels by Susan Ferrier
Read these books if you enjoy Jane Austen, Charles Dickens or long, satisfying family sagas written with wit and flashes of laugh-out-loud comedy.
'Marriage'
This novel begins with a marriage, as a beautiful young English heiress marries the son of a Scottish laird, but in her first and funniest novel Susan Ferrier shows that marriage does not always lead to 'happily ever after', as she tells the stories of two generations of heroines and their adventures north and south of the border.
'Marriage', Edinburgh Edition of 1881
'The inheritance'
Susan Ferrier is often seen as the Scottish counterpart to Jane Austen, but in this book she proves herself more of a Scottish Dickens. The young heroine Gertrude arrives in the Scottish estate of Lord Rossville to take up her position as his heiress, but finds herself in the middle of a gallery of humorous and eccentric characters — and at the centre of a mystery. What is the secret that terrifies Gertrude's mother and lies at the heart of her inheritance?
'The inheritance', Edinburgh Edition of 1882
'Destiny'
The old Scottish clan system is collapsing around the Laird of Glenroy in the Highlands of the early 19th-century. Stubbornly he refuses to enter the modern world, with terrible consequences for his estate and particularly for his daughter Edith. In this novel, Ferrier does not shrink from exploring the defects of the old system or the harsh realities of modern capitalism, but her focus is on the effects of both on the lives of the real people at the heart of the story.
'Destiny', Edinburgh Edition of 1882
Recent published editions
'Marriage', edited by Herbert Foltinek with an introduction by Kathryn Kirkpatrick for Oxford University Press's 'World's Classics' series, 1997.
A scholarly edition of 'The inheritance' was produced by Cassandra Phillips as a PhD thesis in 2006 at the University of Saskatchewan.