Geologist, 1864-1939
More items for
women of
science: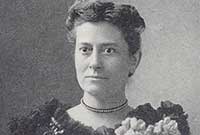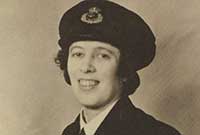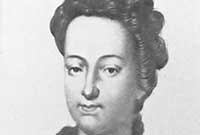 Dame Maria Gordon.
Maria Gordon was born in Monymusk, Aberdeenshire. After education in Edinburgh and London, she continued her geological studies at the University of Munich specialising in recent and fossil corals.
In 1900 she became the first woman to gain a PhD from there. She received a distinction in geology, palaeontology and, zoology.
In 1895 she married John Gordon, an Aberdeen physician and loyal supporter of her career. She then went on to have three children.
Even as a busy mother, she continued her fieldwork, often trekking alone in the mountains, making observations and collecting fossil specimens.
Geological work
All Maria Gordon's studies were done in the geologically complex south Tyrol Dolomites. This is a mountain range in the northern Italian Alps and now in the UNESCO World Heritage List. Now popular as an area for skiing, it was at that time, a remote and isolated region.
Her early work was notable particularly for her theory of 'crust-torsion'. This set out that the distinctive peaks of the Dolomites were formed by pushing, folding and twisting movements of the Earth's crust. Her ideas contradicted the prevailing view of the day — that the peaks were formerly coral atolls in an ancient sea.
Over the years, she published more than 30 original papers on the geology of this region. Some of these became definitive references for future work in the south Tyrol.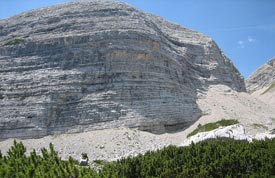 A peak in the South Tyrol,
showing layered rocks.
Her writing brought her wide professional recognition first in Austria then Italy. The London Geological Society awarded her the Lyell medal in 1932.
Women's rights campaigner
Throughout much of her life, Maria Gordon was an active campaigner for women's rights, encouraging women to become politically involved.
After the death of her husband in 1919 she moved to London and became active in civic affairs. She was made a Justice of the Peace and was the first woman to chair a London borough court.
In 1935 she was made a Dame which recognised her tireless campaigning for the rights of women and children. It also recognised her involvement in women's groups such as the International Council of Women which is still active today.
Legacy
Maria Gordon was arguably the most productive female field geologist of any country in the late 19th and early 20th centuries. She was remembered as having a quick, intuitive grasp of her subject along with tremendous enthusiasm.
Discussion points
How popular do you think the field of geology was in the late 19th and early 20th centuries?
How do you think a young scientist would feel, putting forward radically different theories from those held by established senior colleagues?
What would the challenges have been for a wife and mother to pursue a scientific career in the late 19th or early 20th century?
Useful links