Our public spaces are open to everyone and we aim to ensure that everyone is treated equally. This page outlines the facilities available to our visitors.
If you have a disability, you can contact the Access and Enquiries Team before your visit to find out more about our facilities and provision:
Email: kelvinhall@nls.uk
Tel: 0845 366 4629
On this page: Kelvin Hall
On other pages:  George IV Bridge Building and Maps Reading Room at Causewayside
Access
There is a ramp from pavement level to the ground floor for wheelchair users and others who cannot use the stairs.
The National Library of Scotland at Kelvin Hall is on the ground floor. Access is via a long corridor ('the avenue'), which is level.
Services and facilities
Our premises are fully wheelchair accessible. We also have:
Height adjustable tables
Touchscreen monitors on height adjustable stands
Three computers that have a large key keyboard, a track ball mouse, and Dolphin assistive technology which provides a screen reader and magnifier
Toilets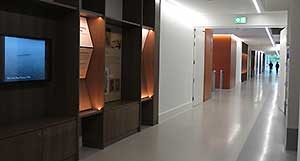 The 'avenue' leads from the Kelvin Hall
entrance to the National Library
premises.
Kelvin Hall has wheelchair accessible toilets in the avenue, including one that is near the door to our premises.
Contact
Please contact us if you need more information about facilities and access for people with disabilities: email kelvinhall@nls.uk.